Dr. Marli Dercksen was recently honoured with a special Woman Inspiration award for her work in metabolic diseases by the Federation  of Afrikaans Cultural Societies (FAK). Lets find out more about this remarkable woman.
Tell us a bit about when you were born and where you grew up?
I was born in Vereeniging in the Vaal Triangle in 1980. I went to primary school in Vereeniging and matriculated at the Vaalpark High School in Vaalpark (near Sasolburg) in the Free State in 1998.
Did you go to university at the NWU, and what did you study?
I studied biological sciences at the PU for CHE at an undergraduate level. I completed my honours degree and MSc (both in biochemistry) at the NWU. In January 2009 I registered as a PhD student at the University of Amsterdam. Prof Carools Reinecke of the NWU and Prof Ronald Wanders as well as Dr Ries Duran of the University of Amsterdam were my promotors. The study required research to be conducted at both universities. I defended my thesis, "Isovaleric acidemia: an integrated approach toward predictive laboratory medicine", successfully in 2014 and was awarded my degree at the University of Amsterdam. At that time I still carried out diagnostic tasks at the NWU.
Where does your love for medical sciences come from?
Biology has been close to my heart since my schooldays, and I knew even then that my career would be in this field. I think that mentors at university (national and international), as well as the rapidly developing field of human genetics, gave me even more certainty about wanting to become a clinical biochemist in the related field. What is even more satisfying is that my profession is twofold: research in human genetics, as well as the application of this topic in the identification of rare genetic diseases.
What does your work at the NWU involve and what is your field of specialisation? As chief medical scientist I am responsible for carrying out and facilitating the diagnostic interpretation of the results of congenital metabolic defects. I am also fairly involved in the management of the laboratory, which includes internal and external quality control. I also regularly provide inputs to various research projects and provide supportive training to postgraduate students. I try to maintain my research outputs in the form of publications and congress presentations. I am registered with the HPCSA as medical scientist providing a service in the field of diagnostics.
A little more information on the work we do: Our work as medical scientists involves analysing samples of bodily fluids like urine and blood in order to generate a profile of each patient's metabolic status. The sensitive analytical techniques include chromatography and mass spectrometry to help us determine the concentration of each molecule in the sample and then assess whether everything is within normal limits for a certain age.  We can then use our observations to determine which DNA tests have to be done.
What does the FAK award mean to you?
It is truly an honour to receive recognition for the work that I – and the laboratory too – do. I hope it serves as inspiration to every student to pursue their dreams. It is also a sign that what medical staff in South Africa do does make a difference, even if it sometimes feels as if we are just treading water.
You have already received a number of awards.  What do you want to achieve in the near future?
I just want to continue with the patient-driven research and thus help as many people as possible to get a diagnosis for their rare disease. Even though a single rare disease may be rare individually, there are more than 7 000 rare diseases in total, and jointly they are then more common than you think. Some can even be treated, while others can be managed with symptomatic support only. The congenital factor of rare diseases means that it is not just individual patients who are affected, but also future generations. Our research and diagnostic service are therefore of great value to many generations.
Other than your academic work, what are your loves/hobbies?
I like solving problems. I enjoy completing crossword puzzles and building puzzles in my free time.
Anything you would like to add?
I definitely know that we as medical staff make a big difference to people's lives, even though our working conditions are not always easy. Without specialist medical services in South Africa so many patients will suffer and even die without having been diagnosed. Optimum diagnostic and treatment strategies can be communicated to young medical staff and scientists only through knowledge transfer and patient-inspired research. Please visit our website for more information: www.pliem.co.za.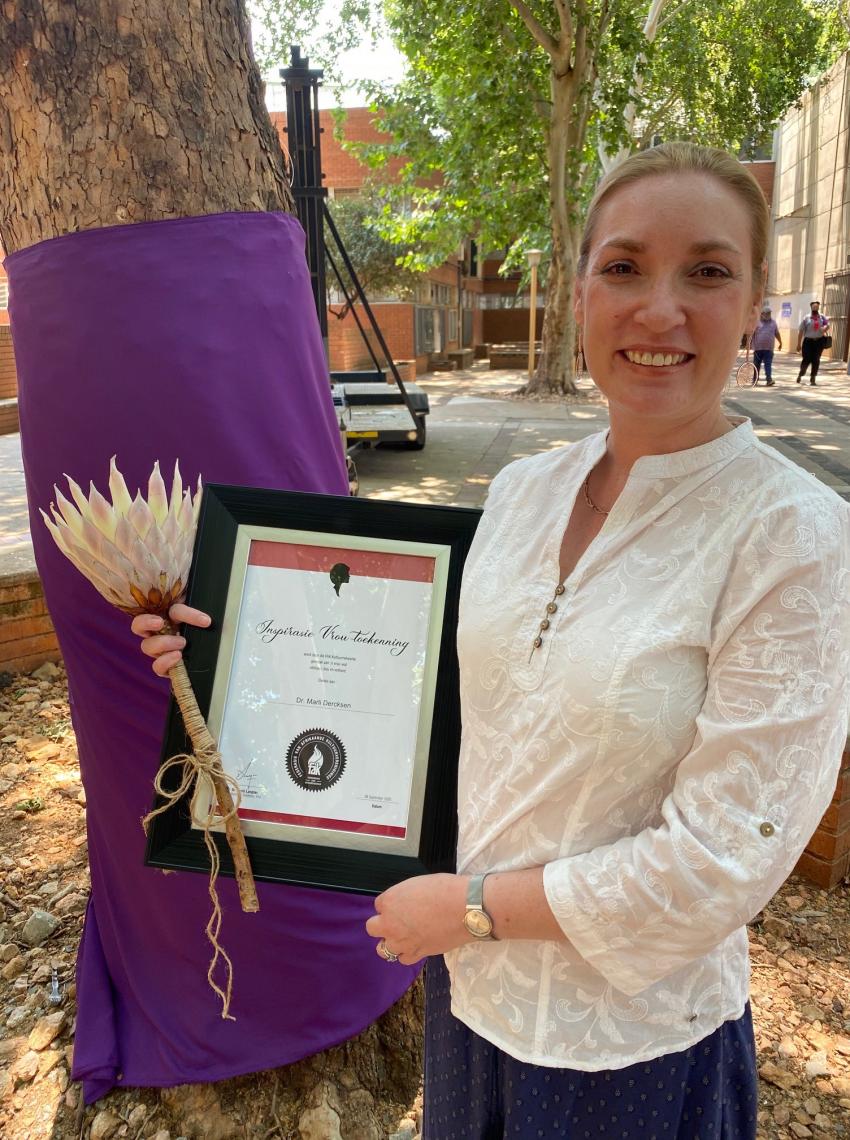 Dr. Marli Dercksen