From January 2022, the secretariat of the regional water research network known as WaterNet will be based at Mahikeng Campus of the North-West University (NWU) as part of a five-year agreement.
We caught up with the WaterNet executive management head, associate professor Jean-Marie Kileshye Onema, to obtain a better understanding of the 79-member organisation, a network of southern African university departments, research and training institutes specialising in water.
What is your role as WaterNet executive manager?
Reporting to ministers and senior officials of the 16 Southern African Development Community (SADC) countries on progress in the implementation of capacity-development activities in the water sector and representing WaterNet to partners are some of my major tasks and responsibilities.
These are informed by WaterNet capacity-building activities that encompass education, continuous professional development, collaborative research, outreach and knowledge management, for which I oversee the operations. Moreover, I provide strategic inputs to the WaterNet management board and operational directions to the WaterNet secretariat that carries out daily WaterNet business.
What will your research priorities be as you start Phase 5 in January 2022?
WaterNet member institutions will continue to generate new knowledge from research activities in response to local, regional and global needs in line with the SADC research agenda and the United Nations sustainable development goals (SDGs). Systemic approaches and innovation will be given prominence as new research proposals are developed and implemented in Phase 5 (2022–2026).
Graduate students at master's-degree and doctoral levels will continue to be involved in collaborative research throughout WaterNet Phase 5. New synergies will be established with local and regional research programmes for increased coordination and impact.
Phase 5 research will focus on ground-level impact and engagement with relevant actors on the ground. The aim is to seek a better understanding of actual needs in a drive for empathetic leadership in research for development.
What can the NWU community look forward to during your five-year tenure in South Africa? What will WaterNet contribute?
The NWU will be the knowledge hub for capacity-building activities for the SADC water sector. As a result, the limelight will be directed toward the new host institution for the next five years.
International cooperating partners (ICPs) supporting capacity-building efforts in the region will be drawn to the new base and knowledge hub that represents WaterNet, providing greater visibility to the NWU in the process. NWU researchers and graduate students will be afforded an opportunity to join some collaborative and international research projects, with results going way beyond South Africa's borders.
You recently noted a dire need to empower more women in water research. How will WaterNet achieve this?
The underlying and guiding principles of WaterNet capacity-building activities comprise co-creation, inclusiveness and empathetic leadership, among other things. These considerations speak to the need to work closely with those fighters at the forefront in the water sector, and we know the critical and vital role that women play in the management of water resources. WaterNet therefore cannot provide effective water solutions to the SADC region without due consideration to women and young people in the development and implementation of capacity-development activities. Women and young people will be leading the design and the implementation of research projects during the next phase of WaterNet.
In what way or ways can interested water researchers become part of the bigger WaterNet research community?
WaterNet is a member-driven institution that is open to national institutions from all 16 SADC countries. Research and training institutes that can mutually enrich others are invited to join this wonderful initiative through applications that are screened twice yearly and vetted by the annual general meeting.
WaterNet regularly also invites SADC nationals and researchers to respond to applications on the joint development of collaborative research projects. These offer a further opportunity for researchers to be part of cutting-edge research initiatives in the SADC water sector.
More on WaterNet
The network aims to build institutional and human capacity in the region in integrated water resources management (IWRM) through training, education, research and outreach by harnessing the complementary strengths of member institutions in the region and elsewhere.
The WaterNet concept was initiated in May 1997 by the SADC-EU conference, where ministers of water from southern Africa and Europe emphasised the need to "level the playing field" between riparian countries and to develop capacity-building programmes to achieve this goal.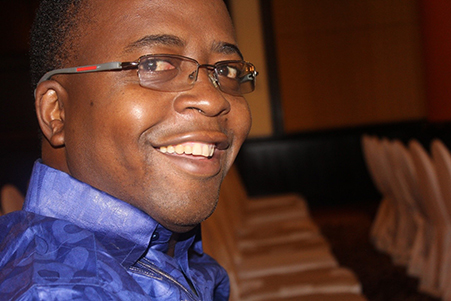 Jean-Marie Kileshye Onema.