How long will cricket still be known as the "Gentleman's Game", or is that nickname already a thing of the past? Women's cricket has grown by leaps and bounds and this trend has continued in 2023 with the ICC Women's Under-19 Cricket World Cup.
The event, which was staged in South Africa, took place at three venues, namely the North-West University Oval (NWU Oval) and the JB Marks Oval – both in Potchefstroom – as well as at Willowmore Park in Benoni.
In all, 16 teams took part in the tournament: Australia, Bangladesh, England, India, Indonesia, Ireland, New Zealand, Pakistan, Rwanda, Scotland, South Africa, Sri Lanka, the UAE, the West Indies and Zimbabwe.
The NWU Oval's first game was the clash between Pakistan and Rwanda, which Pakistan won by eight wickets. The final of the tournament took place on 29 January at the JB Marks Oval.
The NWU again showed why it is such a sought-after host for numerous global sports events.
It is heartening to see how women's cricket has been embraced by the cricket-loving public, and it is of the utmost importance that youth tournaments like the ICC Women's Under-19 Cricket World Cup continue to thrive.
India won the tournament at the JB Marks Oval on Sunday 29 January by beating England.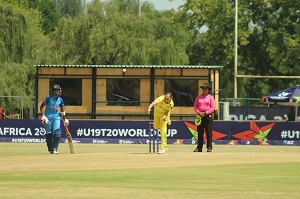 India and Australia in action at the NWU Oval. Photo: Wouter Pienaar