Six years after the inception of the North-West University's (NWU's) Centre for Applied Risk Management (UARM), the centre continues to blaze a trail of excellence within the risk management sector.
In 2018 the centre boasts 22 master's students: 15 doing first-year course work and seven their mini-dissertations. The UARM part-time master's students all work in the private and public sectors allowing for active and collaborative discussion during classes and applied research within these sectors.
Professionally these students' work roles range from risk management officers and internal auditors, to heads of risk, compliance and governance in public sector, national and multi-national companies.  These companies include the likes of Eskom, SARS, Vodacom, Nedbank, Trans Caledon Tunnel Authority and Nandos.
According to Prof Hermien Zaaiman, associate professor and manager of UARM, it is important for the centre to work closely with all industry partners to continue to provide innovative behavioural risk management solutions.
The centre – which functions within the Faculty of Economic and Management Sciences on the NWU's campus in Vanderbijlpark – was established in 2012 as a result of the dire need for both qualitative postgraduate risk education and applied risk management research within the South African business sector. Ideally, business and risk managers play complementary roles in the process of setting and achieving an organisation's objectives, but in practice experts found a disconnect between these interconnected roles.
UARM: making an impact
"Our first cohort of MCom students graduated in 2016,"says Prof Zaaiman and adds that the centre's trophy cabinet bears witness to the impact thereof on the business, financial and educational sectors.
UARM enjoys Institute of Risk Management South Africa (IRMSA) accreditation and has been awarded several IRMSA prizes for its contribution towards the development of risk management training within the South African higher education sector.
More about UARM
The Master's in Applied Risk Management programme is aimed at the needs of full-time employees at organisations across the private and public sector. According to Prof Zaaiman, adult education works best in an interactive, facilitative learning environment and as such the centre allows students to contribute and learn from guest lecturers, professional experts and from each other based on their own work experiences. "Our qualitative approach to risk management fills the gap created by the current dominance of quantitative risk programmes in higher education and we are in the privileged position to leverage off strong working relationships with leading experts, academic institutions and risk organisations locally and internationally," says Prof Zaaiman.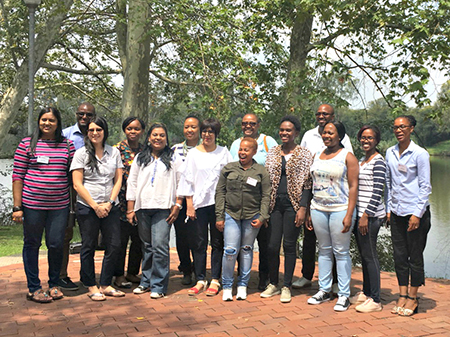 UARM recently welcomed a new intake of MCom students.