He never says "no" to anything. Never. This is how people who know Rethabile Dube describe this 25-year-old trailblazer.
He is commonly known as just Dube. Everybody knows Dube. Like Cher, Prince, Drake and Madonna. As senior administrative assistant at Graduations and Ceremonies at the North-West University (NWU) his face is well known in Mahikeng, Potchefstroom, Vanderbijlpark and even as far as Namibia.
In addition, he is the housemaster of the men's residence Caput on the Potchefstroom Campus. And that is not all. Dube is also a councillor of the JB Marks Local Municipality, where he handles the portfolio for Youth Development and Student Interests. And he serves on the Community Safety Committee of the town council. One shudders to think what his CV will look like in a few decades from now.
 "No, I don't know how I cope with everything!" he laughs. "Actually, it is all about good planning and the team of people who work with you and support you. Then 90% of things in life are possible."
Dube was born in Rustenburg, where he matriculated at Rustenburg High School. His sister studied at Stellenbosch University and he saw that it is not always easy to be so far away from home. "I also had a few friends who convinced me that Veritas (men's residence) was the best place." Dube spent his first two years at the NWU at Veritas while he completed a BCom degree in Economics and International Trade.
Each of his tasks requires a unique character trait and a unique approach to succeed. Let us start with his role as housemaster: "Initially I was the substitute housemaster for Ratau for six months, and then moved to Caput on a full-time basis. It is wonderful. It brings me back to the student life and I like working with the students."
His five-year term as councillor kicked off in November 2021, and it was a true baptism of fire. "Seeing the bigger political picture comes as a great shock. There is more administrative work involved in making even small changes than you can imagine. There are many misconceptions about how the political system works."
 "I would like to make an active contribution to people's lives one day, particularly in the field of entrepreneurship. There is a lack of information that leads to poor financial decisions. I am thinking in particular of going about getting a bank loan, managing debt, and so on. I want to bring these skills to people."
That is why he has his sights on an MBA after he has completed his Postgraduate Diploma in Management at the NWU Business School. You see, long-term planning is his thing: "I do not like living for today's action, but for tomorrow's satisfaction."
And yet, a major life adjustment is waiting on the horizon. On 2 July he is tying the knot with his beloved Elisma in Rustenburg.
 "I am nervous, but also very excited about what lies ahead for Elisma and me."
Spare a thought for her, because she will have to live with a few interesting dietary needs. Firstly, there is an insatiable sweet tooth: "Chocolate makes me very happy."
No hot liquid passes his lips, and as far as vegetables and salads are concerned, Dube himself says it the best: "I don't eat rabbit food!"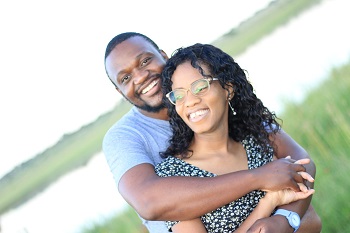 Dube and his beloved Elisma