The Covid-19 vaccination drive in South Africa received a boost with thousands of members of the public, including North-West University (NWU) staff members, their spouses and life-partners, getting their vaccinations during the past weekend (16 to 18 July).
Similar drives are expected in the near future and as soon as details regarding these are available, it will be communicated.
A vaccination drive took place at two NWU sites, the Great Hall in Mahikeng and the Dampad Dining Hall in Potchefstroom. These sites were identified as vaccination outreach sites by the North West provincial government.

A total of 1 200 Johnson & Johnson vaccine doses were administered in Mahikeng to registered recipients in the age group 35 years and older, and 2 008 Pfizer vaccine doses were administered in Potchefstroom. Unfortunately, due to the fact that the Vanderbijlpark Campus is in Gauteng, the agreement could not include this campus, but staff members and their families who travelled to Potchefstroom were accommodated at the site.

The vaccinations were originally only aimed at registered NWU staff, their families and domestic workers, but as information spread by word-of-mouth and social media many members of the public who were registered to receive vaccinations also lined up.

Loads of positive feedback

Prof Awie Kotze, dean of the Faculty of Health Sciences who oversaw the vaccination drive, says they received positive feedback from staff and community members at the sites as well as on social media.

"It was wonderful to experience the passion, effectiveness and friendliness of every person involved in this drive. It was heart-warming to see how many people came to be vaccinated and to experience the positivity that surrounded the whole weekend.

"It is very hard work to vaccinate people in high numbers, and it takes absolute dedication from everyone involved. We are very proud of all involved in the weekend's drive."

He says the NWU could in a relatively short time provide this essential service in addressing the needs of South Africa. "The good cooperation with the North West provincial government enabled us to provide this service effectively."

Part of a bigger network

Prof Awie says the NWU's sites are part of seven mass vaccination sites identified in the province. "We opened the first sites and representatives from other sites that will become operational in the next few days have already arranged to visit the NWU to see how we are doing it. Other sites will include Klerksdorp and Rustenburg."

Prof Dan Kgwadi, vice-chancellor, thanked all the NWU staff, students and stakeholders who volunteered and worked at the sites.

"We as the NWU family are proud of the great work that was done to ensure that everyone who qualified received their vaccinations. With this much dedication and effectiveness, we as the NWU family make a big contribution in addressing the pandemic."

He says the NWU family's hard work during the vaccination drive is an example of the university's ethic of care and deep commitment to community involvement.

NWU family makes vaccination drive extra special

The positive spirit that surrounded the vaccination drive included many heartening initiatives.

This included the office of the NWU's mascot, Eagi, delivering more than 30 blankets to keep volunteers warm and the Thuso Covid-19 Compliance Buddies under guidance of Juan-Ri Potgieter doing their part as friendly and effective marshals.

A special childminding service was also one of the highlights where parents could leave their children in the safe care of social work and psychology student volunteers while they got their vaccinations.

Members of the community also made contributions as part of celebrating Mandela Day. This included Fruit Hub donating boxes of fruit as a thank you gesture to workers at the vaccination site in Mahikeng.

"It is very important to be vaccinated against Covid-19. We are working towards similar projects for NWU staff and members of the public to be vaccinated at the outreach sites. We will communicate more information in this regard," says Prof Awie.
Click here
to see a video of the vaccination drive at the two NWU outreach sites.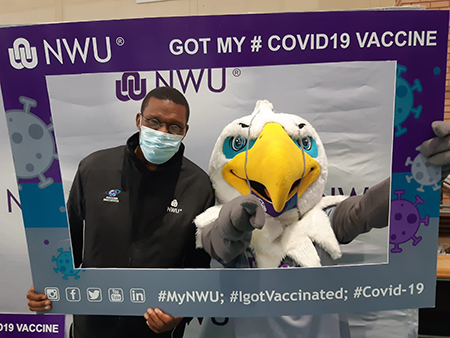 Vice-chancellor Prof Dan Kgwadi and Eagi say it is important to get vaccinated.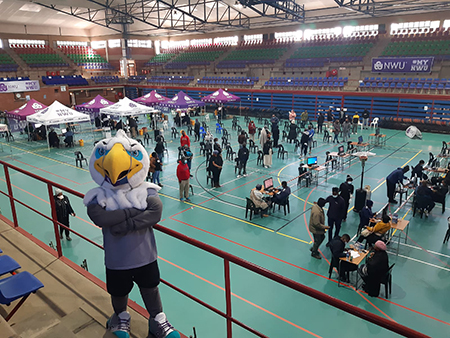 This is the NWU vaccination site in Mahikeng.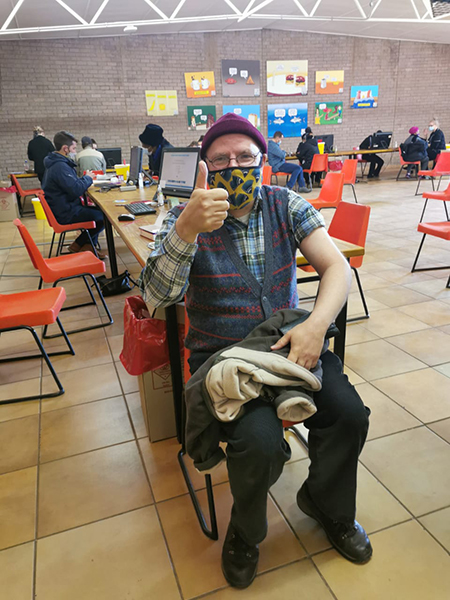 Prof Robert Balfour, deputy vice-chancellor for teaching and learning, received his vaccination on Friday, 16 July.

KP Leeuw of the Witrand Hospital vaccine site was on duty during the weekend.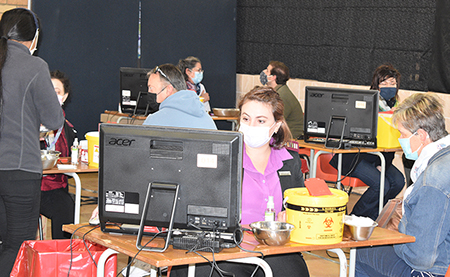 The NWU vaccination site in Potchefstroom is a beehive of activity.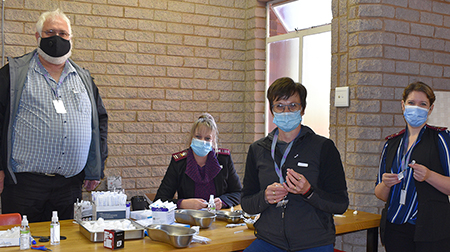 Prof Awie Kotze, Prof Anita Wessels, Dr Alwiena Blignaut and Johandi Neethling of the Faculty of Health Sciences do their part to ensure that the vaccinations run smoothly.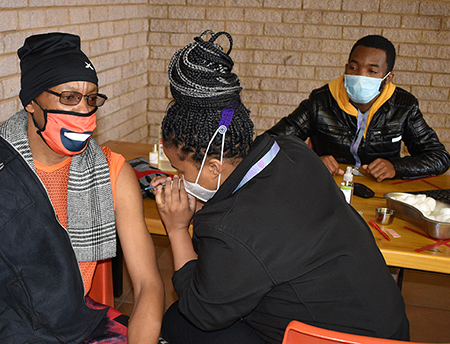 Melvin Diedericks, a lecturer in public administration, receives his vaccination from vaccinator Beauty Hennicks, while administrator Kumbewe Liwewe records the information.