"Master". That is a title few can lay claim to. Best of the best. That is when a profession becomes a calling and is then developed into an art. Terseus Liebenberg definitely falls into this category.
Over more than three decades his knowledge and skill have taken athletes with talent and transformed them into global stars.  
In the recent 2021–2022 SA Athletics Annual, a publication of the SA Athletics Statisticians (SAAS), Liebenberg was named the top coach of the readmission era by the executive committee of the sports body.
 "Wow, this is a tremendous honour. I am humbly grateful. This award is a great motivation to me. It is fuel for my coaching fire. There are so many good coaches who were nominated, like Martin Marx who coached Hestrie Cloete, and tannie Ans Botha. They are really phenomenal coaches," says Liebenberg.  
According to SAAS, it was a strong competition between Liebenberg and Ans Botha, who is described as the top coaching force behind Wayde van Niekerk's success. Although Van Niekerk is described as South Africa's best athlete ever, Liebenberg supplied a constant stream of champions.
These include Marius Corbett, who won the World Championships in Athens, Greece in 1997, as well as the Commonwealth Games and African Championships in 1998. Then there was Sunette Viljoen, who won silver at the Olympic Games in Rio de Janeiro in 2016. She also boasts two Commonwealth Games and five African Championships titles. Her list of achievements can fill a book. Another African champion, Justine Robbeson, won enough medals to sink a boat, Tazmin Brits is one of the country's best ever, and currently Jo-Ané van Dyk, Waldo Smit and Johann Grobler are achieving top performances.  
 "I am grateful for all the athletes who have crossed my path. "I am currently very excited about what Jo-Ané, Waldo and Johann can still achieve. Each of them is a jewel and it is a privilege to coach them."
His coaching philosophy involves sweat, sweat and more sweat.
 "There are no shortcuts to success, just honest, hard work. Every athlete is an individual and must be treated as an individual if you want to help them develop to their full potential. I believe in good relationships with my athletes – we have mutual respect for each other."
And podiums and medals and awards and laurels keep on coming.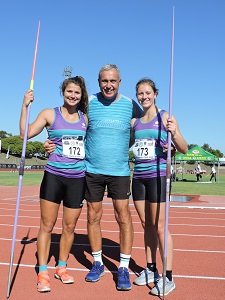 Jo-Ané van Dyk, Terseus Liebenberg and Clarissa Weyer.