Transforming an idea into a thriving business may seem like a daunting task, but the North-West University (NWU) gives the expertise and support to point aspiring entrepreneurs in the right direction.
Student entrepreneurs from all the faculties at the university participated in a start-up and side-hustle boot camp on 12 May. The event was a collaboration between the NWU Technology Transfer and Innovation Office (TTIS), the Faculty of Economic and Management Sciences (FEMS) and the NWU Business School. It took place in Potchefstroom, with similar boot camps having been previously hosted in Mahikeng and Vanderbijlpark.
"The initiative aims to train entrepreneurial students in conceptualising and building a new business from an idea, to expose them to the online tools available, and to teach them how to pitch their business idea to potential funders," says Hannes Malan, commercialisation manager at the TTIS.
The boot camp also gave the entrepreneurs the opportunity to learn from professionals. Special guest speakers included Mafani Gunguluza and Dumisani Sibanda from FNB's Enterprise and Supplier Development (ESD) unit. They presented a workshop on ideation and how to test whether your idea is worth pursuing.
Representatives of TTIS offices at Tshwane University of Technology, the University of Johannesburg, the University of Pretoria and UNISA also attended as special guests. "Student entrepreneurship is the new hot topic among universities, and technology transfer offices have started sharing ideas and comparing notes on how to best address this opportunity," says Hannes.
"We have to build a platform for our students to learn how to start their own businesses," explained Johan Gouws, lecturer in the School of Management Sciences. "Boot camps are a first step." Johan gave a presentation on how to create a pitch deck (marketing presentation) and deliver an elevator pitch (a brief email summary of a business).
These boot camps also serve as preparation for the NWU Leopards Lair™ student pitching competition, which commences in July this year.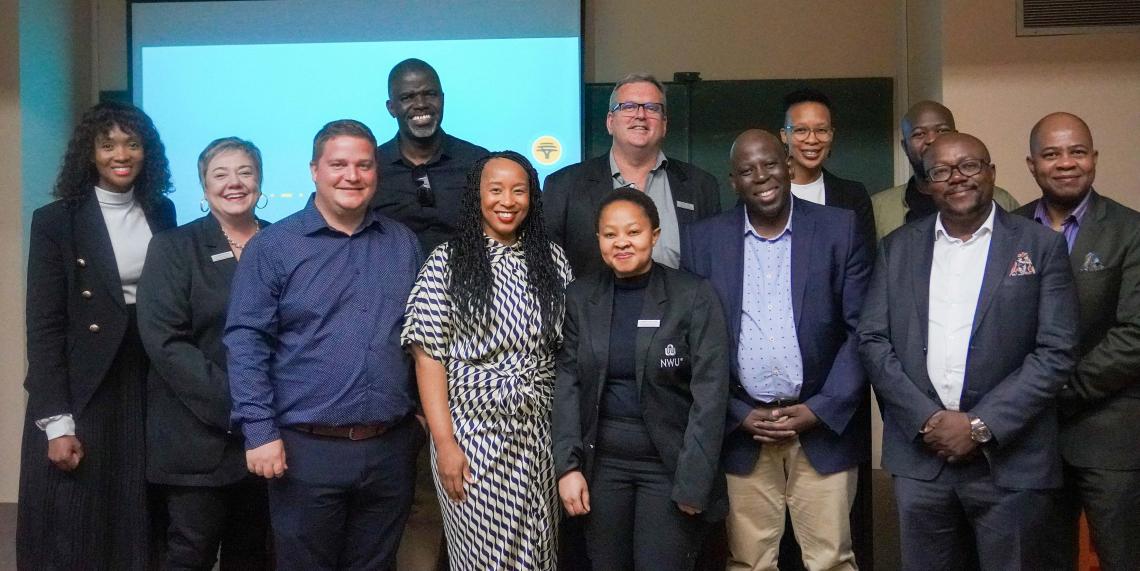 Left to right: Attendees at the boot camp included Lerato Mdaka (NWU School of Management Sciences), Yolande Bullock (NWU TTIS office), Johan Gouws (NWU School of Management Sciences), Mafani Gunguluza (FNB's ESD Unit), Thandi Maretlane (NWU TTIS office), Ayanda Noma (UNISA), Adv Laurence Baloyi (University of Pretoria); Dr Hamilton Mphidi (Tshwane University of Technology). At the back are Mr Dumisani Sibanda (FNB); Hannes Malan (NWU TTIS office), Dibuseng Modise (TUT) and Basanda Pongoma (UNISA).
Mafani Gunguluza and Dumisani Sibanda from FNB's Enterprise and Supplier Development unit took centre stage during the morning session.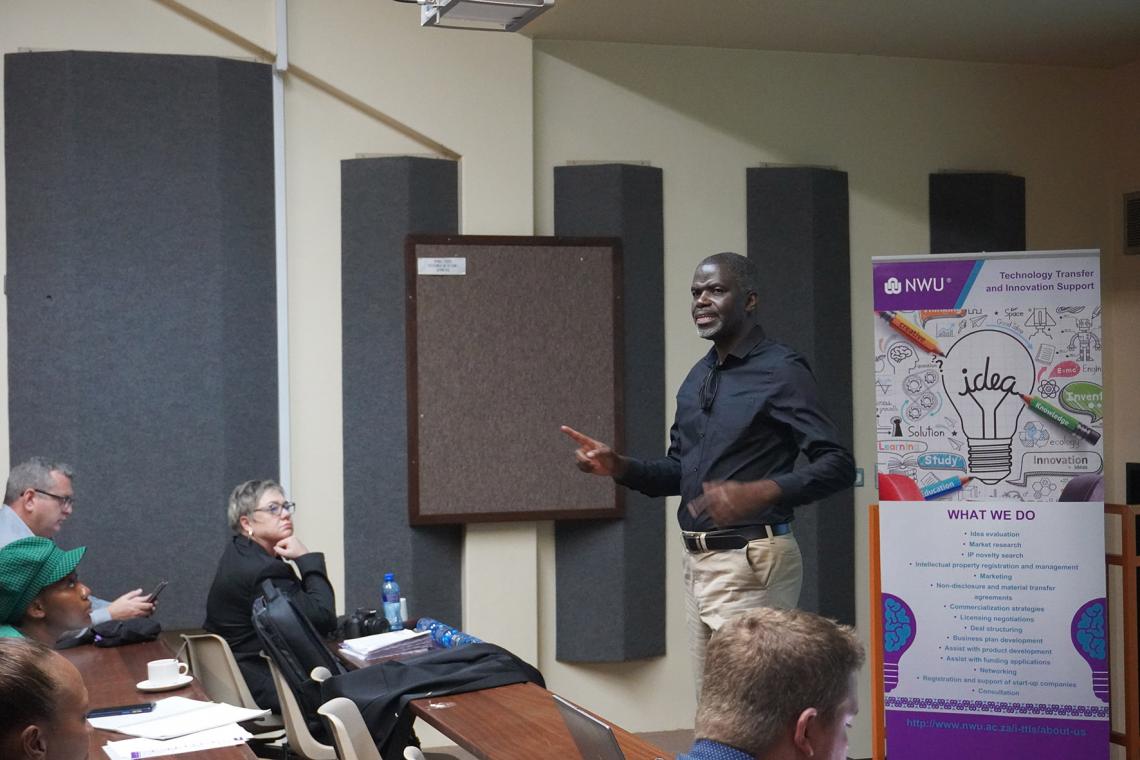 Dumisani Sibanda of FNB in action.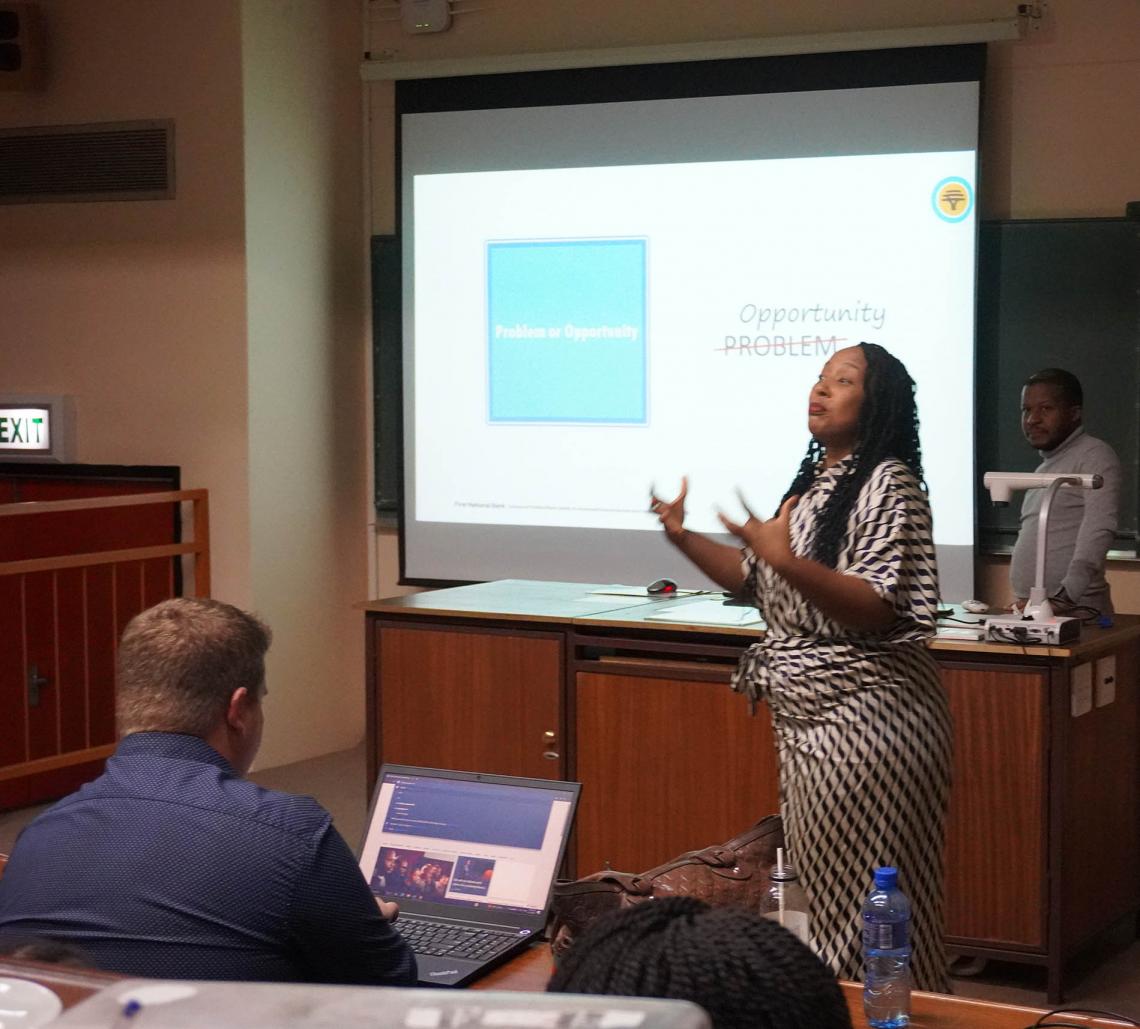 Mafani Gunguluza of FNB delivers a presentation with Kgaugelo Maripane of the TTIS looking on.