"What is in a name?" William Shakespeare wanted to know.  A young researcher from the North-West University (NWU) knows exactly how important a name is. She is currently believed to be the youngest gnathiid taxonomist in the world, at the forefront of describing these parasites and identifying their names – or the lack thereof.
Dr Anja Erasmus thrives on recording the tiny sea species and listing important information used to identify them. She is one of only a few active gnathiid taxonomists in the world ― the others being in the Philippines, Japan, Australia and Europe.
Reflecting on the importance of her research, Dr Anja says it is easy to explain. "To me it is the foundation of science. Giving something a name is what everything is built on. If you have, for instance, a problem-causing species targeting certain aquaculture species, it is important to first identify and classify the parasite to better understand its behaviour and ecology. If you can establish what it is, you will know how to manage it better."
As a postdoctoral fellow, Dr Anja is part of an international team that recently described a new isopod species, Gnathia jimmybuffetti, on the Floridian coast of the United States of America. The project's main collaborators were Prof Paul Sikkel from the University of Miami and the NWU's Prof Kerry Malherbe and Prof Nico Smit. This was the first time that details about this species had been chronicled and it was named in honour of the singer-songwriter Jimmy Buffett.
Dr Anja's dream was always to be a marine biologist, but she never imagined that she would one day describe new species, illustrate them as part of her research, and make essential contributions to the science of isopods, thus linking her career to her passion for art.
Detailing piece by piece
Although Dr Anja did not do any physical sampling for this specific species, she received specimens from the Miami researchers in the field.
It was then that her work began. With a steady hand and a sharp eye for detail she examined the specimen through various different microscopes. She took photos and made notes with the help of a differential interference contrast microscope and a scanning electron microscope in the laboratory at the NWU's Potchefstroom Campus.
Her inner artist took over, and she made accurate and detailed illustrations of the specimen by hand. Then the tricky part started ― dissecting the very tiny (smaller than three millimetres) sample with tweezers and blades. Her steady hands were put to the test because the smallest mishap could damage or destroy the sample.
Next, she transferred the data and accompanying illustration of the specimen to a larger data set where characteristics of this specific isopod were noted and compared to other known specimens.
Two peas in an (iso)pod, or not?
The male, female and larvae of isopods often differ in appearance, even when they are from the same species. One of the most effective ways to tell which species a specimen belongs to, is to link them to each other genetically.
"This is why Dr Anja's work is so important," says Prof Kerry Malherbe, current president of the Parasitological Society of Southern Africa (PARSA).
Prof Kerry and Prof Nico Smit assisted Anja in learning the specific techniques and complex terminology associated with this type of work. With so few people in the world able to identify and describe gnathiid isopods, and several experts now near retirement age, there is a great need for these special skills.
According to Prof Kerry, it takes a very special person to make the drawings with accuracy and to have the ability to see differences in species. It is not a job everyone is suited for.
Skill and enthusiasm go together, and Dr Anja has no shortage of either. "There is a whole collection of isopod specimens from this and other projects that still need to be described, so we have our work cut out for us, but we are more than up for the challenge," she quips.
When she is not describing isopods, Dr Anja passes her experience on by lecturing honours-degree students as part of the African Fish Parasitology module, training students in the field of taxonomy and assisting in data management of their group's parasite collection.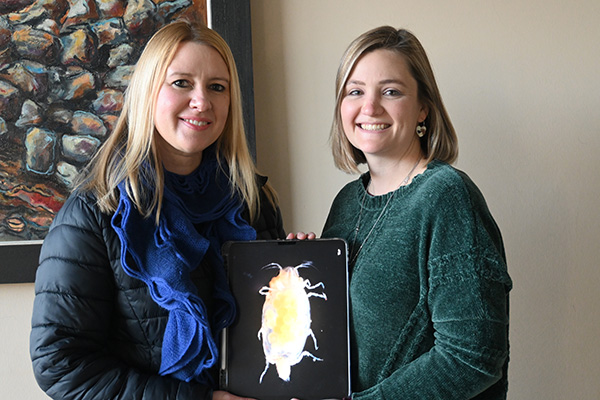 Dr Anja Erasmus (right) with Prof Kerry Malherbe. Dr Anja is currently writing a paper that focuses on the life cycle of the female, from the larval stage to adult female.