She is the undisputed mother figure of the Rugby Institute at the North-West University (NWU). She is one of the heroes behind the scenes. She is the friendly face who greets you first. She is Ronel Emms, and her share in the Rugby Institute's bulging trophy case is just as big as that of all those tries behind the gold.
As the secretary to the Rugby Institute and the assistant to the head, Mervyn Taylor, she is part of the DNA of the Fanie du Toit Sports Grounds.
She has been there since the first years of the institute, when the first coaches like Jacques Swanepoel ("He was a party animal!") to the eminent Matt Proudfoot ("He had a lot of ambition, he knew what he wanted.") laid the basis for outstanding success. And she has been Mervyn's right hand for more than a decade and a half.
"We respect each other's views. He is a good person to work for. We support each other. He has a soft heart, even though he looks as if he can be tough," she laughs.
And she?
"I always try to be a level-headed person, to always be the same. My point of departure in life is Galatians 5:22, which deals with the fruit of the Spirit. It is very important to me."
On Monday, 6 March the NWU Eagles faced Tukkies on the Fanie in their Varsity Cup match. Ronel handed over the jerseys to all the players – from the jersey for Riaan Genis, who led his troops onto the field, to jersey number 23.
She enjoyed this.
"Wow, it was an absolute privilege and honour to do this. My heart somersaulted with pride when I handed each player his jersey." A token of respect and appreciation for what she means to the institute. The NWU's Varsity Cup coach, Burger van der Westhuizen, commented the other day: "Ronel? You can write books about her."
Very nice. Still nice.
"I really enjoy getting up and going to work." Nevertheless: "The guys' admin is not always up to standard," she confesses playfully with a twinkle in her eye. And: No, she says, the students are not a problem. "Mervyn does not allow it!"
There have been many highlights: "All the intervarsities that we won. This was always a big thing to Doc Theuns (Eloff). We had to beat Kovsies." She emphasises the "had to" with a sudden frown to stress the seriousness of the matter.
On 11 April 2016 she almost had a heart attack at the Danie Craven stadium in Stellenbosch. Remember, that was when the NWU beat Maties in a nail-biting match for the Varsity Cup crown.
"I was beside myself. I went on screaming and screaming. I jumped up and down." Then, again: "I was beside myself."
She has been told jokingly that, like in the Afrikaans soapie with the same name, she is married to rugby. This is more or less true. "Rugby is a very big part of my life." Firstly, she is a family person. A mother and grandmother. Spouse to her true love: "My husband, Cooper, is really my pillar of strength and a wonderful person."
Birds of a feather flock together, because Galatians 5:22–23 reads: "But the fruit of the Spirit is love, joy, peace, longsuffering, kindness, goodness, faithfulness, gentleness, self-control. Against such there is no law."
People who know Ronel Emms of Potchefstroom know these are not just 22 words she has read many times. That is who she is.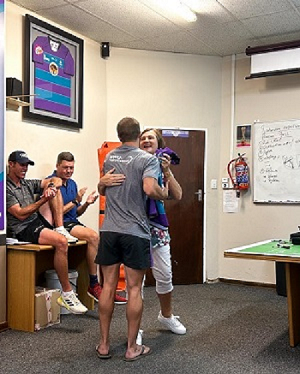 A proud moment, and a well-deserved one.