During his inaugural lecture, Prof Aubrey Golightly discussed the influence of problem-based learning (PBL) on students' self-directed learning (SDL) skills, and looked at PBL as a means to foster SDL in Geography education. SDL is a process during which individuals take ownership of their own learning. They identify their own learning needs, learning goals and resources required for learning, choose appropriate learning strategies, and evaluate learning outcomes for themselves. PBL, on the other hand, refers to learning that occurs during the process of working towards the understanding of or providing solutions to a stated problem. It is a student-centred approach, in which the problem is encountered first. The problem serves as a focal point, eliciting the application of problem-solving or reasoning skills and the search for knowledge and information required to understand the problem and potential solutions thereto. Literature shows that PBL is becoming increasingly popular in higher education, as it enhances student learning and the fostering of 21st-century skills. However, teacher education has been minimally impacted by PBL and limited research is available on PBL in teacher education settings.
Prof Golightly looked at the subject of Geography specifically and highlights that fundamental problems may arise when Geography educators are expected to follow a student-centred approach in teaching within the social constructivist paradigm, without having been trained and adequately prepared to do so. It is necessary to understand that PBL is aimed at encouraging students to take responsibility for their own learning. PBL facilitates more than just the acquisition and organisation of knowledge. It develops 21st-century skills such as problem-solving, critical thinking, SDL, communication, collaboration, sharing of information, awareness of personal strengths and weaknesses, etc. The success of PBL has led to widespread application of the teaching and learning strategy across various fields. During their formative school years, potential preservice Geography teachers are often exposed only to the traditional behaviourist teaching approach. As a result, their perceptions of the nature of teaching and learning do not necessarily align with the essence of the paradigm of social constructivism. PBL is regarded as an exemplary constructivist approach, as it places the learner at the centre of the learning process and shifts the classroom focus from teaching to learning.
The self-directed approach of PBL suggests that educators assume more of a guiding, facilitating, collaborative role in students' learning, as opposed to acting as conveyor of information and knowledge. SDL is often seen as a critical component of PBL. It can be an advantageous learning outcome of PBL and, simultaneously, a specific learning goal. In turn, several features of PBL foster SDL, such as the student-centredness of PBL, students' commencement with problem-solving before having received other curriculum inputs, students' awareness of gaps in their knowledge, the generation of their own learning issues, students' self-directed research and individual study, critical evaluation of resources, application of new knowledge in the process of problem-solving, and critical and collaborative reflection on their SDL skills. Research is clear that SDL is developed when PBL is implemented as a teaching and learning strategy. Considering the student-centredness of PBL, students typically engage with the problem and take ownership of their own learning.  
Prof Golightly selected all BEd Geography modules (first to third year) at the North-West University (Potchefstroom Campus) to demonstrate the importance of showing educators how PBL can be implemented in various Geography modules during an academic year. Facilitators developed Geography problems that aligned with one module outcome for each module. For three weeks per Geography module, students attended twelve face-to-face PBL tutorial sessions to present solutions to these problems. Fourth-year BEd Geography students acted as tutors in these sessions, after having received training in the role of tutors in PBL tutorials.
He found that students' perceptions of their self-directedness in learning over a three-year period can be influenced by the effective implementation of PBL in Geography education. For optimal results, PBL experiences should be implemented at regular intervals in the Geography modules in different academic years. Geography educators act as facilitators in the PBL process and play a crucial role in guiding students to solve real-world geography problems. Therefore, a crucial factor to ensure successful PBL experiences is training of the Geography facilitators, tutors and students to fulfil their new roles in PBL environments. It is also necessary to provide Geography students with assessment rubrics to assist them in solving the problem and evaluating the PBL outcomes.
Prof Golightly is currently involved in a Geography education project in which he seeks to explore the relationship between Geography teachers' level of SDL, their involvement in self-directed professional development activities and the implementation of active teaching-learning strategies in the Geography school curriculum. He will focus on the implementation of PBL in the Geography school curriculum and in the planning of meaningful Geography PBL problems. His research will shed valuable light on the crucial role and responsibility of teachers in the teaching-learning experience.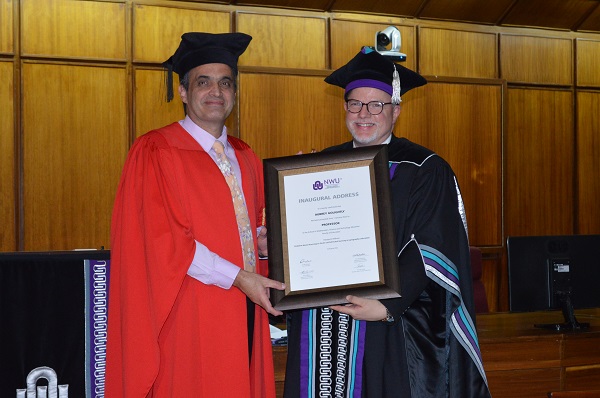 Prof Robert Balfour, deputy vice-chancellor for teaching and learning hands over the address to Prof Aubrey Golightly.