In a water-scarce country like South Africa with growing demands for grazing, cultivated perennial grasses could be the answer to protecting the veld and providing nutrition for animals.
"Droughts, scarcity of rain and overgrazing have caused a lot of degradation of the veld, and therefore veld restoration is a priority for farmers and the animals that depend on grass for survival," says Ntokozo Msiza, a PhD candidate in animal science at the North-West University (NWU).
Her MSc research topic was "Utilising agronomic and morphological attributes, and nutritive value in ranking some selected grass species for veld restoration".
Ntokozo says the research focused on planted pastures and by cultivating perennial grass species to restore degraded rangelands.
"The establishment of complementary perennial grass species could be an ideal method of dealing with existing problems of veld degradation and inadequate forage quantity and quality of pastures," she says.
The experiment was conducted in a greenhouse experiment at the Molelwane University Farm to evaluate perennial grasses and their growth stages, their agronomic and morphological attributes, chemical composition, prediction of chemical estimates and the in vitro dry matter (DM) degradability for veld restoration.
"In most arid and semi-arid zones, pastures are essentially a remunerative resource because they serve the dual purpose of feeding ruminants while restoring degraded rangelands and maintaining the health condition of the grasses," says Ntokozo.
Findings from the study showed varied performance, with six varieties coming out tops on most parameters measured. These were Anthephora pubescens, Cenchrus ciliaris, Chloris gayana, Digitaria eriantha, Eragrostis curvula and Panicum maximum.
The grasses identified can be useful in semi-arid regions as they have the potential to establish rapidly, are resource competitive, can contribute to veld restoration and are a source of feed.
"The study generally revealed that with protein supplementation, the productivity of animals exposed to these grasses can be improved."
Ntokozo concludes that while these grasses are good for the veld and animals, grazing management principles are needed to avoid further land deterioration. Also, the bigger impact would be for smallholder and emerging farmers to use this knowledge to bring solutions for sustainable farming and food security while taking care of our rangelands.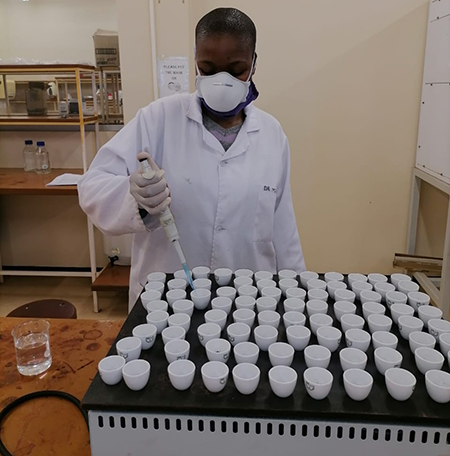 Ntokozo Msiza's study focuses on the importance of veld restoration.