The Eagles have landed! The NWU got their Varsity Cup campaign off to a winning start by beating the Madibaz from NMMU by 47–28 in Pretoria on Monday, 5 April.
As the score suggests, it was a hard-fought encounter with plenty of tries being poached on both sides. Coach André Pretorius's side dotted down seven times, although first blood went to NMMU's Khakalethu Bophi for an early 5–0 lead.
This nifty start could not clip the Eagles' wings, although the victors often made it a tad too hard on themselves. Hooker Gustav du Rand was inspirational. Strong in the loose and steady in the set pieces, the official Player that Rocks had a game to remember.
Captain Lincoln Daniels's charges next take on the Shimlas on Thursday before facing the mighty UP-Tuks on their home turf on Sunday.
In other results from the first round, UJ continued their miserable form from last year by losing 13–46 to the CUT Ixias, while UP-Tuks beat Wits 28–25. UWC and Shimlas played to a 28-all draw, and Ikeys claimed the scalp of their dreaded foe, Maties, 26–20.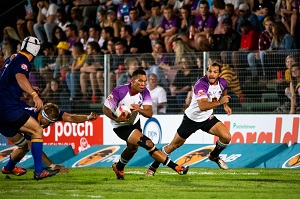 The NWU Eagle' stalismatic captain Lincoln Daniels showcasing all his skills before the Covid-19 epidemic struck.