Is it Superman? Batman? Spiderman? No, it's Captain Heart! He is a North-West University (NWU) Superhero on an important mission – to raise awareness about the dangers of hypertension and to inspire young children to pursue healthy eating habits.
This new superhero is the initiative of Prof Ruan Kruger whose research in the early detection and prevention of cardiovascular disease is making important contributions in the fight against hypertension and obesity in Africa.
Ruan is the SARChI Research Chair for the early detection and prevention of cardiovascular disease in Africa, funded by the Department of Science and Innovation (DSI) and the National Research Foundation (NRF), as well as the chairperson of the Next Generation Network of the South African Hypertension Society (SAHS). He is part of the Hypertension in Africa Research Team (HART), a research Centre of Excellence at the NWU.
The introduction of Captain Heart coincides with Ruan's inaugural lecture on 2 September.
Journey through arteries promotes heart health
Captain Heart comes to life in an exciting and fun animation video and comic book for children aged five to 13 years. An informative pamphlet has been designed to give parents practical advice in ensuring healthier choices for their children. 
The story follows Captain Heart taking a young girl, Carol, and her group of friends on a journey in Captain Heart's little car through the body and to the heart of a person who did not make healthy choices. On their way they have to endure a narrow escape through plaque-filled arteries.
They learn about important concepts such as blood pressure, body mass index and pulse wave velocity and this newfound knowledge empowers them to become heart heroes themselves.
The design of the animation, comic and pamphlet was done by JIVE Media Africa. The video is available in English and Setswana, while the comic books and pamphlets are in English, Setswana and Afrikaans.
Captain Heart developed from study
Ruan says the concept of Captain Heart originated from a study called Exercise, Arterial Modulation and Nutrition in Youth South Africa (ExAMIN Youth SA), of which he is principal investigator. His recent research, titled "A demographic approach to assess elevated blood pressure and obesity in prepubescent children: The ExAMIN Youth South Africa study", also inspired several concepts in the development of Captain Heart.
This study sought to determine the prevalence of hypertension and obesity in a group of 1 062 South African children between the ages of five and nine, and to identify unique characteristics in terms of sex and ethnicity. It also estimated the odds of developing high blood pressure in the presence of excess adiposity (body fat).
Almost 20% of the children in the study were overweight and 14,1% had elevated blood pressure and 22,8% hypertension.
Ethnic differences included greater adiposity in white compared to black children, but higher diastolic blood pressure and total vascular resistance in black compared to white children; these indicators were also higher in girls than boys. Diastolic blood pressure measures the force at which the heart pushes on the walls of arteries in between beats.
"From the study it was clear that unique sex and ethnic differences in body composition and blood pressure exist in prepubescent children, with overweight/obesity increasing the risk of elevated blood pressure. Our findings support primary prevention strategies to combat the growing burden of hypertension and obesity-related diseases in children."
Ruan says Captain Heart is an effective and exciting way to communicate the science of high blood pressure and its harmful effects on the body at young ages. "It is scary to think that one in five children have high blood pressure and that one in five are overweight or obese. It is essential to identify this at an early age to ensure effective treatment and preventative measures to limit severe health issues later."
The continuing ExAMIN Youth SA study is funded by the NRF of South Africa and the South African Medical Research Council's self-initiated research grant.
To see Captain Heart in action, visit https://www.youtube.com/watch?v=cZFajR5q1pM
To read more about the study visit: http://health-sciences.nwu.ac.za/examin-youth-sa/home
Photo of comic book
To read the comic book, click here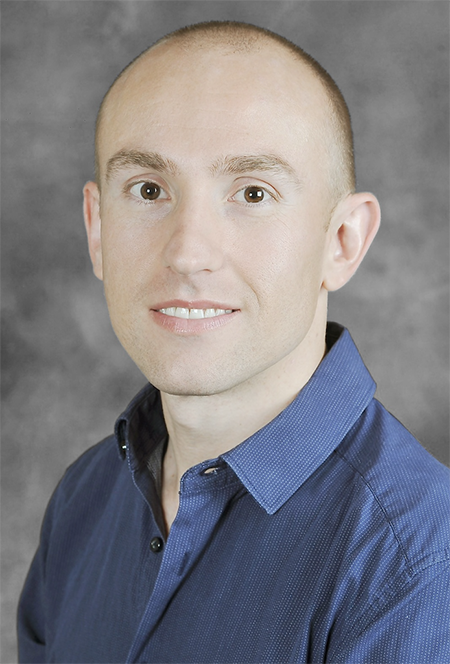 Prof Ruan Kruger.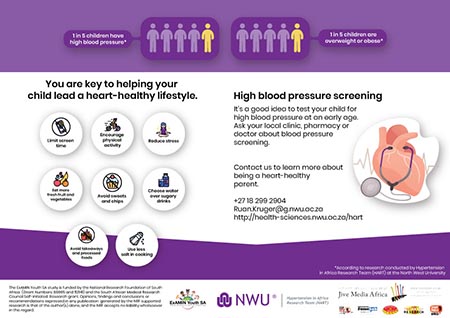 This pamphlet gives practical information for parents and teachers.