The fungus that spoils bread does not work alone. It has guests hidden deep within its cells – bacteria – with whom it has a mutually beneficial relationship that can be positive or negative for humans. Understanding and modifying this relationship can have a profound impact on the food, medical and agricultural industries.

This is the focus of a four-year international collaboration between the North-West University (NWU) and two universities in the United States.

It is part of a new grant that enables Prof Rasheed Adeleke, NWU researcher and associate professor of microbiology and soil sciences, and his American counterparts to determine how the fungi-bacterial relationship can be managed to limit food spoilage, fight diseases and ensure better food crops.

Prof Adeleke says the specific fungi are driven by a bacterial symbiosis. "We investigate to what extent, if any, fungal growth is impacted by the presence and nature of their bacterial symbionts, whether this entails killing bacteria or mass producing them. We want to determine the extent that the fungi can survive on their own and the implications of it."

He says this will help to develop some concepts in everything from better baby food and other food supplements to the improved quality and quantity of crops such as tomatoes, among others.

Knowledge exchange is basis of collaboration

The grant is an initiative of the South African and United States governments. It is administered by the National Research Foundation (NRF) in South Africa and the National Science Foundation in the United States.

"I can never tell my story without highlighting the importance of the NRF in my career. They play an important role in supporting researchers and also to make us internationally visible."

The collaboration is between the NWU and Cornell University and Oregon State University in the United States.

The co-principal investigators are Prof Adeleke, Prof Teresa Pawlowska, associate professor of plant pathology and plant-microbe biology at Cornell University, and Prof Jessie Uehling, assistant professor of botany and plant pathology at Oregon State University.

"We will arrange workshops and visits to both countries as part of the exchange of skills and knowledge. We will also collect samples together."

Research focuses on three groups of fungi

According to Prof Adeleke, they will focus on three groups of fungi in the Mucoromycota lineage and their bacterial symbionts. These fungi are Glomeromycotina, Mucoromycotina and Mortierellomycotina. Interestingly, these fungi are sometimes found in certain environments, a situation that can be influenced by their bacterial symbionts.

Glomeromyocotina is a unique soil fungus that absorbs mineral nutrients and makes these accessible to plant roots; it may therefore offer a natural substitute for mineral fertilisers.

Mucoromycotina is widely known as bread or sugar mould and can cause the rare and fatal disease mucormycosis. It is hoped however that a better understanding of this fungus can play a significant role in limiting food spoilage.

The third group of fungi, Mortierellomycotina, is used by industries in baby formula and food supplements.

Investing in young researchers

He says he is especially excited about the training opportunities for students. "I have always been interested in training people; I am proud of the more than 20 postgraduate students I have mentored so far."

Prof Adeleke currently has 16 students in his research group and believes some of them will benefit from this collaboration opportunity. "They will get the chance to visit the USA to meet and work with their peers."

He concludes that the project is not only about finding new solutions for challenges in agriculture, food and medicine, but also about investing in young researchers.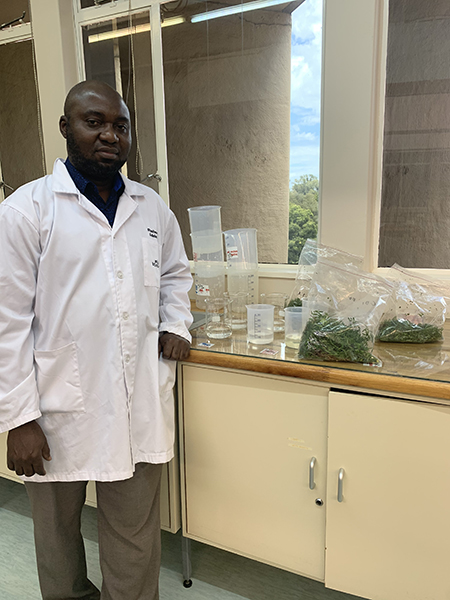 Prof Rasheed Adeleke says the grant gives him the opportunity to take his research to another level and enhance his research profile.
"One can have many ideas for research but without the funding and support, it is difficult to get it off the ground. It is always an honour to work on such a big research project with international researchers."