At times, Waldouw Smit's javelin career was one big question mark. Will he be able to overcome the injuries plaguing him? Will he be able to achieve his potential? Will he be able to surpass the 80 m mark? The answers are "yes", "yes" and again "yes".
This former learner from the Potchefstroom Gymnasium, who is mentored by Terseus Liebenberg at the NWU, was an SA Schools champion when he was 17 years old, and the javelin world was at his feet.
However, injury followed upon injury, and he was able to send a javelin into the sky again only in 2021. On 28 May this year in Sasolburg he threw a personal best of 80,96 m, and on 15 June in Kladno in the Czech Republic he improved this distance to 81,63 m. He also won the event with that distance.
On 2 June in Austria, Jo-Ané van Dyk also threw a personal best of 61,61 m, and ended second in this competition. At the African Championships in St Pierre, Mauritius, she recently won gold with a distance of 60,65 m.
At this same competition, Johann Grobler came fourth with a distance of 73,82 m.
This is a remarkable series of javelin achievements and the best is probably still to come!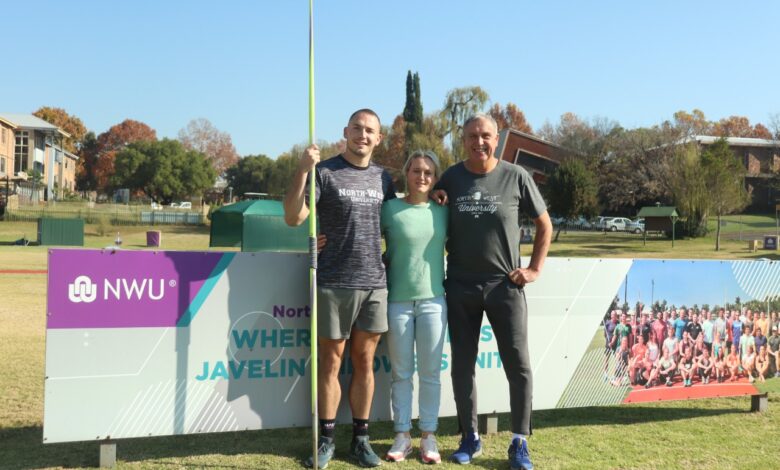 Waldouw Smit, Anita van der Lingen (physiotherapist) and Terseus Liebenberg. Photo: Wouter Pienaar/Potchefstroom Herald