Drama. That was the hallmark of the North-West University (NWU) Eagles march into the semi-finals of the Varsity Cup after they beat the CUT Ixias 35-32 on Tuesday afternoon.
It was a hard-fought contest, as the scoreline shows, with the eventual winners showing ample resolve to keep the plucky Free Staters at bay.
It was the second time in less than a week that the Eagles had to rely on their never-say-die attitude after they snuck home 33-29 against UJ on Sunday, 23 May.
After Sunday the Eagles occupied the fifth position on the overall log, just one point behind CUT. A win was thus non-negotiable. That would have looked a bit different, was it not for the Eagles losing 42-36 against the pace-setting UCT Ikeys on Thursday, 20 May. They did, however, outscore the log leaders by six tries to four.
That should give them some confidence when they face Ikeys again on Friday, 28 May at 19:00 for a spot in the final. The Capetonians have been nothing short of outstanding and will test the Eagles to their limits.
But, like coach André Pretorius' troops have shown numerous times, they shouldn't be counted out before the final whistle blows.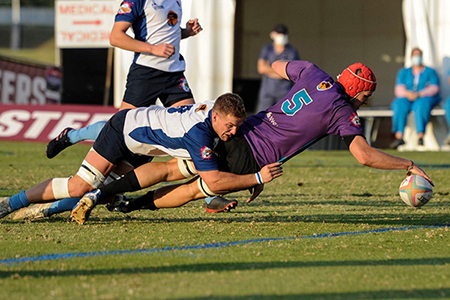 The Eagles' exceptional lock, Jeandré Leonard, dives over for one of his two tries against CUT. Photo: ASEM Engage Photoshelter