Athletes from the North-West University (NWU) had a stellar showing at the recently held CAA African Athletics Championships in St Pierre, Mauritius. It is the third time Mauritius has played host to the event after the 1992 and 2006 competitions had been held there.
The event, which took place from 8 to 12 June, saw South Africa bag 36 medals – the most since 1993. This mammoth tally saw South Africa finish second overall behind Kenya, although the Kenyans bagged only 23 medals.
Among those who shone in the island competition were a host of NWU-affiliated athletes. Jo-Ané van Dyk won gold in the javelin with a throw of 60,65 m, Alan Cumming won gold in the hammer throw with a distance of 69,13 m, Ryan Williams won bronze in the discus with a throw of 56,70 m and Valco van Wyk also claimed bronze with a height of 4,90 m in the pole vault.  
There was also a strong showing from Joné Kruger, who finished fourth in the long jump, as did Riette Heyns in the discus, Tamzin Thomas in the 200 m and Johann Grobler in the javelin. Karmen Fouché and Marga Cumming both finished fifth in the long jump and hammer throw respectively, while Marissa Swanepoel ended seventh in the 20 km race walk.
In all, South Africa has finished in the top spot eight times since first competing in the tournament in 1992. They are tied with Nigeria in the top spot, while Kenya is third with five wins. The event was first staged in 1979 in Dakar, Senegal, but South Africa did not compete due to its isolation from the world stage. On the all-time medal list, Nigeria leads the pack with 160 gold medals, Kenya has 154 and South Africa has 138. The next best is Algeria with 77 gold medals, which shows just how far the top three are ahead of the rest. In the overall medal standings, Nigeria has 379 medals, Kenya has 405 and South Africa has 375.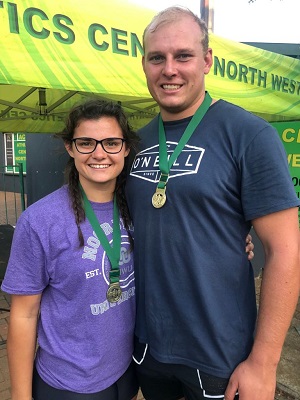 Marga and Alan Cumming