On Wednesday, 7 September, the North-West University (NWU) recognised two outstanding individuals for their grit, determination and perseverance during the 2022 Comrades Marathon. This took place during an event at which outgoing Council members were honoured for their contribution and services to the NWU. 
Tete Dijana, who works for Mi7, a security company that provides services to the NWU, and specifically to the Mahikeng Campus, won the men's race, while Dr Adele Broodryk, a senior lecturer at the School of Human Movement Sciences of the Faculty of Health Sciences, was the first South African woman to complete the 2022 Comrades Marathon. She also claimed the overall third position in the women's division.
Both Comrades heroes were lauded for the amount of publicity they generated for the NWU. Their combined audience reach ran into the millions and their advertising value equated to more than R11 million.
In acknowledgment thereof, Dijana received R120 000 and Broodryk R80 000 from the NWU.   
"I am proud to say that among the 15 986 runners from 70 countries who participated in this year's race, we had nine NWU staff members who competed. The commitment, dedication, resilience and performance of each athlete are acknowledged. We are exceptionally proud to be associated with two gold medallists: Tete Dijana and Dr Adele Broodryk. Tete and Adele are exceptional brand ambassadors of the North-West University," says Dr Bismark Tyobeka, principal and vice-chancellor of the NWU.
Dr Tyobeka went on to explain how these superlative athletes serve as inspiration. "To you, we say congratulations and continue flying the NWU flag high!"
Click here to watch the event.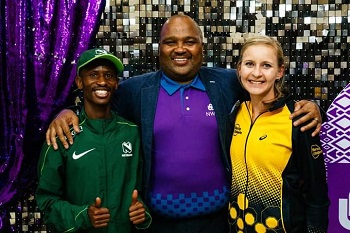 Champions! Tete Dijana with Dr Bismark Tyobeka and Dr Adele Broodryk.