Bertie Jacobs
There are 23 metres between the bridge and the water of the Vaal River just outside Bothaville. The fall lasted just more than two seconds. Those two seconds on 8 August 2020 changed Brandon Moolman's life irrevocably. Before he – and his friends next to him – decided spontaneously to jump from the bridge that afternoon, he lived his love of hockey as coach at the Transvalia High School. A few days earlier he had heard that he had passed his BCom degree in Economics and International Commerce at the North-West University (NWU). Young and healthy. All the vitality in the world. Two seconds later he was a quadriplegic at the age of 24.
It is now almost two years since Brandon broke his neck and had to spend 174 days in intensive-care and rehabilitation units: Friday, 1 April 2022. "Yes, see, nothing fazes Brandon," says his father, Dr Leon Moolman, a senior lecturer in Labour Relations on the NWU campus in Vanderbijlpark. Brandon was in hospital for a few days with a kidney infection and that afternoon he confirms his father's sentiment. "No, nothing fazes me."
He was recently appointed as the coach of the second men's hockey team on the campus in Vanderbijlpark, and this is a role he enjoys thoroughly. As a crack player who represented the South African junior schools hockey team and a gifted coach, the hockey field is his home and he cannot stop talking about his homecoming.  
 "It is unbelievable that I can live my passion again," says Brandon, who celebrates his 26th birthday in June. "I have been playing hockey since I was 10 years old. The hockey field is where I can forget about everything. When I experienced stress at school or university, I went to the hockey field. That is where I can be my best self."
Positive through and through, like his father said.
 "I saw in rehabilitation that there were people who could move only their necks. It could have been worse. The same could have happened to me. I could have been dead," says Brandon, who still has the use of his neck, shoulders, biceps and wrists. That is about 15% of his body.
But what does he do about mobility on the practice field? After all, he is stuck in a wheelchair.
Enter the now 20-year-old Chin-Lee van den Berg. In 2020 the Vaalweekblad, the biggest community newspaper in the Vaal Triangle, reported on Brandon's tragic accident. Chin-Lee read the article on Facebook, contacted Brandon and wished him all the best with his recovery. The two started chatting and today they have been in a relationship for a year.
During coaching sessions he provides guidance and tips and Chin-Lee carries out his instructions. It is a formidable combination and his team flourishes thanks to their partnership. Their prospects for the season look good and he hopes that the team will be able to move up a league.
In addition, Brandon has a special bicycle with which he practises and wants to take part competitively. He regularly tells himself that, regardless of the obstacles, and whatever life throws your way, you can overcome it.
 "There will always be things in the way that will look bad. You must keep your head up and not focus only on the negative things."
He would like to become a motivational speaker and if his audience follows his example one day, an enriching life awaits them.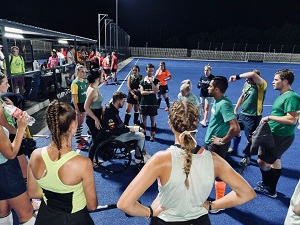 Doing what he knows best: Brandon in coaching mode.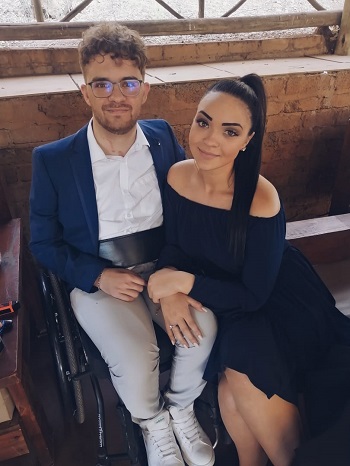 Brandon Moolman and Chin-Lee van der Berg.