Prof Jaco Gericke does not take an orthodox approach to research in his field, ancient culture, and in a sense that has sometimes counted against him. However, the tide has turned, and the fact that his work is not in the mainstream of scholarship may have proved to be an advantage. It led to the National Research Foundation (NRF) awarding a coveted B rating to Prof Gericke, an associate professor at the Faculty of Theology on the North-West University's (NWU's) Vanderbijlpark Campus.
He says his research focus has always been "somewhat anomalous" in mainstream scholarship in his field. Though focused on ancient texts, and in particular those of the ancient Near East, and the Old Testament specifically, doing research that is off the beaten track is what has made the journey so much more rewarding.
"Instead of simply joining existing conversations, the challenge was always not only to solve problems, but to identify new ones, complicate old ones and develop historically conscious philosophical theoretical frameworks for studying texts that are not usually linked to philosophy in this way," Prof Gericke says.
His original contribution came in the form of putting biblical (specifically Old Testament) scholarship back into dialogue with philosophy of religion and philosophical theology. He says this interdisciplinary interest had fallen into disrepute, often for good reasons, especially during the 20th century.
Seeking to portray interdisciplinary research in a new light, Prof Gericke set out to show how new developments in discussions of religious topics in analytic and continental philosophy could be adopted and adapted. This is done for the sake of comparing ancient and contemporary concepts and thereby clarifying both the strange worlds of the past and the contemporary languages we use to speak about them.
 
"Understandably, for a number of years, many of my peers had no frame of reference for what I was proposing. After producing dozens of articles in peer-reviewed journals, contributing chapters to edited volumes and writing three monographs that were published by major international publishers, the tide slowly started to turn," he says.
Over the past eight years, Prof Gericke's new method gained more and more acceptance, citations and promotions by leading international scholars, along with invitations to present at and arrange conferences on ancient Near Eastern and biblical texts and philosophy of religion. All this, and related seminars and invitations from his local and international peers to present more of his work, contributed to the end result – a B rating from the NRF.
This means a lot, not only for Prof Gericke, but also for his colleagues at the NWU and the faculty, because of what the rating signifies. "Obtaining a B rating means one is no longer simply seen as an established researcher, but also as one who has achieved considerable international recognition for the quality and impact of one's work," he says.
"Also, obtaining any rating whatsoever takes years of dedicated work, and everyone who manages this is honoured and celebrated by their institutions, enabling them to continuously improve on their ratings while specialising in theoretical innovation.
"This is something I am very grateful for. It means all the toiling, initially in relative obscurity, but with the aim of the opposite, was worth the efforts and sacrifices made."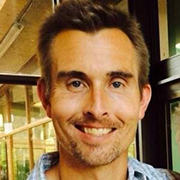 Prof Jaco Gericke.