As with all endeavours earmarked to better society and to save that which is precious, it starts with innovation in renewable energy, and the Sasol Solar Challenge promotes this. The key word is "challenge", and the Engineering team at the North-West University (NWU) has proven itself time and again to be up to the task. 
This challenge allows the Faculty of Engineering to empower students to further their practical and teamworking skills.  During the trip, there will be various control stops, with the communities being invited to learn more about the car.  This provides an opportunity to get the young people excited about science and engineering and help mould the engineers of the future.
"Naledi", meaning "star" is the NWU's solar car that will participate in the Sasol Solar Challenge. This challenge will commence in Johannesburg on 9 September and end in Cape Town on 16 September. Teams from South Africa, the Netherlands and Belgium will be competing. 
"Our goal is to finish as the top South African team. We must remember that some international teams have a lot more external funding than we do. It goes without saying that we would like to compete on their level," says Danie Human, team manager of the Naledi team from the NWU.
"There is a lot to look forward to. It is a beautiful, long route and we would like to see that the car is competitive. We are a great team and we look forward to seeing how our car compares to the rest with regard to our planning and design. Most of all, we will be enjoying the challenge."
According to Human, one of the most daunting tests will be the fluctuating weather conditions – the wind, the heat and those most imposing clouds.
"We have made the car lighter than it was and improved the efficiency of our solar panel by adjusting the pitch of the solar panel to face the sun, and by having cooling ducts and heat sinks under our panels.  No other team does this, which should give us an edge," says Human.
The Naledi team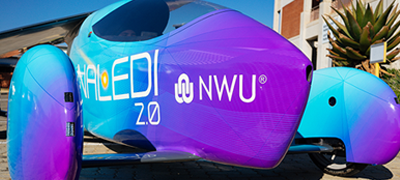 Naledi 2.0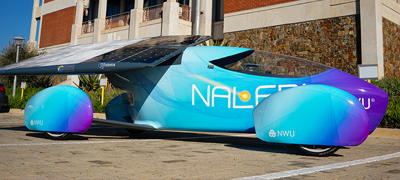 Ready to soak up the sun