Leané Naudé, an MSc Engineering student at the North-West University (NWU), will be packing her bags for Amsterdam in May to represent South Africa in the global finals of the Blue Sky science competition.

She earned this honour after coming second in last year's national Blue Sky awards, a biennial competition acknowledging the work of students and young researchers in forest-based science product development.

Currently employed as a chemical engineer-in-training at Sappi's Technology Centre in Pretoria, Leané says her NWU study leader, Prof Sanette Marx of the Centre of Excellence in Carbon-based Fuels, encouraged her to enter the competition.

Leané, who competed against 17 other local and international participants in the national event, has developed a cost-effective purification method for lignosulphonate, an alternative to fossil-based products.

After she had come second in the national competition, she was entered into the international round along with 14 other participants, where she ended among the top three, thus paving the way for her and two others to present their individual projects in Amsterdam this May.

"It is a great honour and privilege to be included in the top three of the Blue Sky awards. Being able to do a presentation in front of very highly regarded individuals in the science community is a phenomenal opportunity," she says.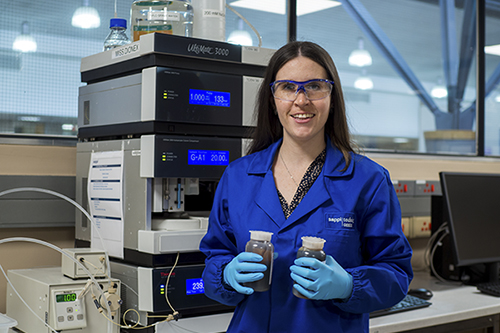 Leané Naudé is one of three females in line for a global Blue Sky award.
Leané explains why the Blue Sky awards are a big deal.