In South Africa, a woman can live with her child at a correctional facility while serving time for the crimes she has committed. This is permitted for the first two years of the child's life and allows the mother and child to bond.
According to a study conducted by Belinda Ruzvidzo, a North-West University (NWU) LLM graduate, children living in prisons experience some negative emotional and physical effects.
Belinda's study, titled "An analysis of the South African law governing minors living with their mothers", investigated the effects on and rights of children living in prisons with their mothers, and how the living conditions in prison affect the realisation of these rights.
The study was conducted between 2015 and 2017. Belinda worked under the supervision of Prof Melvin Mbao and Prof Linda Muswaka from the NWU's Faculty of Law.
The good, the bad and the ugly

During her research, Belinda analysed the South African Correctional Services Act, 1998 (as amended), and did a comparative analysis with the laws of countries such as America and Australia.
Although infants and young children get to bond with their mothers while living in correctional centres in South Africa, they are separated from the rest of the family.
The study found that due to the restrictive prison environment, minor children who live in correctional centres with their caregivers are negatively affected by the rigidity of the prison regime. The lack of exposure to life outside the prison and to male role models may lead to children struggling to adjust in society.
Belinda says her research highlighted the shortcomings of the South African legal framework when dealing with children living with their mothers in prisons. "One main weakness of the current legislation is its lack of alternatives to the placement of infants or to the prison residency," she says.
 A lot still has to be done and this research is not the end of the road for Belinda. She plans on conducting more research that will help find ways to better the lives of children whose mothers have been incarcerated.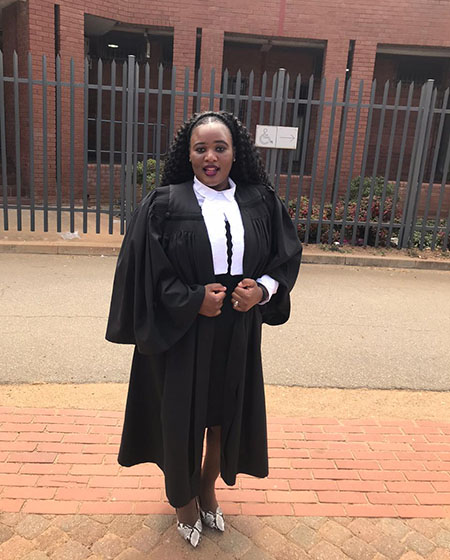 Belinda Ruzvidzo, an NWU LLM graduate.