Chromium from mining activities has been found in high concentrations in plant species commonly grown in household gardens in Sekhukhuneland, Limpopo, representing a potential health hazard.

These are some of the findings of Sutapa Adhikari, a doctoral student from the North-West University (NWU), who has been studying the contamination of food and medicinal plants by chromium (Cr) and platinum mine dust in Sekhukhuneland.

Her study was focused on the marginalised people living in the polluted areas, where she ultimately hopes to apply the NWU's expertise to the benefit of this rural community.

In her study, Sutapa specifically targeted 16 useful plant species commonly grown in home gardens or collected from rangelands. Evidence of Cr dust deposition on leaves was found for 67% of the assessed plant species.

Significantly higher deposition of Cr dust was linked to plant morphological traits such as plant height, larger leaf area, waxy and hairy leaves, she says.
The study included a comparative analysis of Cr contamination in unwashed and washed leaf materials. In both types of leaves, Cr concentrations significantly exceeded the international permissible levels set for food and medicinal plants. Extremely hazardous Cr(VI) was detected in unwashed leaves.

Considerable carcinogenic and non-carcinogenic health risks were estimated for both leaf materials for several toxic elements, including Cr. People inhabiting mining localities in Sekhukhuneland are hence exposed to multiple hazardous elements via consumption of contaminated plant leaves, whether washed or unwashed.

"Plant leaves collected in the vicinity of active mines, ferrochrome smelters and tailings should be washed thoroughly with clean water to limit ingestion of dust particles that may contain Cr," Sutapa says.

"Prolonged ingestion of Cr could induce skin and gastrointestinal problems, and damage the liver and kidneys."

Finally, she suggests that a greater number of useful plants should be investigated in Sekhukhuneland, especially from polluted home gardens, to ensure their safe use. Nationally, human health risks associated with mine dust polluted plants should be a priority concern.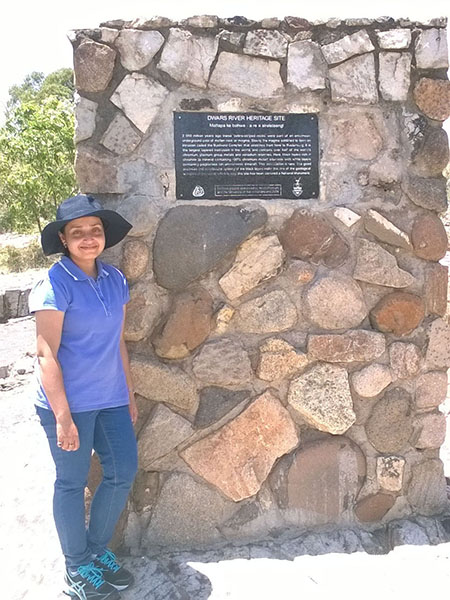 Sutapa Adhikari at the Dwars River Chromium Heritage Site.