With a B2 rating from the National Research Foundation (NRF), Prof David Scott-Macnab is the highest rated researcher currently employed in the Faculty of Humanities at the North-West University (NWU).
To receive a B2 rating, an academic needs to have published a substantial body of research in top-tier, high-impact international journals, books and chapters in books.
Prof Scott-Macnab, who specialises in Middle English research, says he has received a B2 rating three times in a row since 2006, most recently at the beginning of 2021.
"It is a great honour to be awarded a B rating, especially because a number of international scholars must have expressed their opinions about my work.  It is deeply rewarding, as well as humbling, to receive an official letter stating that the reviewers consistently acknowledged the exemplary quality of my textual and lexicographical work," he says.
For young researchers who look up to him, Prof Scott-Macnab says the most essential ingredient for becoming a great scholar is having a topic that really fires your imagination and makes you want to sit at your desk with enthusiasm.  
"Most top-tier international journals have a rejection rate of over 90%. It is no easy matter to produce scholarship for these journals, but with dedication, hard work, burning the midnight oil and making quite a few personal sacrifices, it is possible."
Manuscripts scattered across the globe
Earlier this year, Prof Scott-Macnab was commissioned to undertake a major project for Middle English Texts (MET). MET is the name of a prestigious series established in 1975 to publish previously unknown poetry and other literary texts, works of religion, science, medicine, and alchemy from the 1300s to 1500s.  
The series editors are based at the universities of Wales, St Andrews and Munich, and its volumes are published by Heidelberg University Press.  
Prof Scott-Macnab is currently working on a fully collated edition of a text known as The Master of Game, c. 1413, which exists in 27 manuscripts scattered across the globe.  
"I have already started transcribing manuscripts that have not been seen or analysed for over a century.  One manuscript has been in a series of private collections for over 200 years, and has never been seen by scholars of Middle English.  Another manuscript, was until recently, in the private library of Queen Elizabeth's cousin, Prince Richard the Duke of Gloucester. He kindly invited me to Kensington Palace, where I was able to work on it."
Under normal circumstances, he would travel to libraries and archives to work on the manuscripts themselves, but now due to lockdown restrictions has to purchase digital photographs.
With material like this, one always finds new data, he says. He is in constant contact with the editors of the Middle English Dictionary and the Oxford English Dictionary to update their reference works with new information.
Prof Scott-Macnab says he hopes to complete his current research at the end of 2023. He adds that he is very happy to be affiliated with the NWU, and is grateful for all the support he has received from the university in furthering his research career.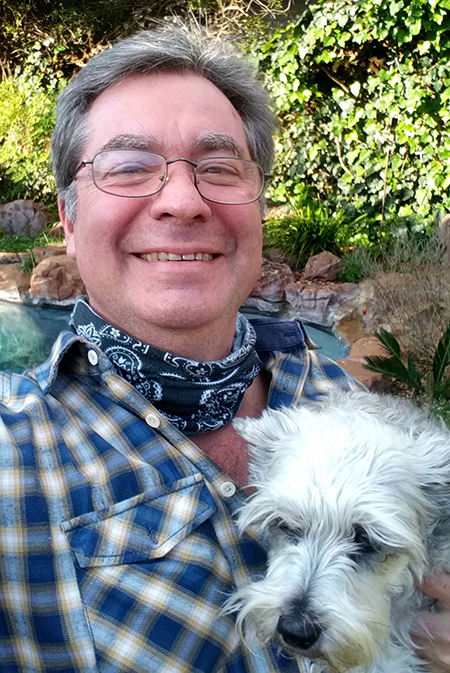 Prof David Scott-Macnab.