She is the current, defending and undisputed javelin champion of the North-West University (NWU), and Jo-Ané van Dyk was recently crowned the Potchefstroom Campus Sportswoman of the Year again. This excellent javelin thrower showed her steel on the international stage once more in 2022 when she represented South Africa at the African Games, the Commonwealth Games and the World Championships.
The 25-year-old Van Dyk, who celebrated her 26th birthday on 3 October, won gold at the African Games in Port Louis, Mauritius this year with a throw of 60,65 m. Her best throw at this stage is an enormous 61,61 m.  
Hammer thrower Alan Cumming was crowned Sportsman of the Year. Cumming, who would definitely have been a feared warrior in another age, boasts a personal best throw of 73 m and is the current South African and African champion.
The Sports Team of the Year was the New Eagles' Sevens team, which won the USSA crown and was one of the top university sevens teams in the country throughout.
The Junior Sportswoman of the Year award went to both hockey player Christa Ramasimong and athlete Karmen Fouché, while the silhouette shot Arno Steyn was named the Junior Sportsman of the Year.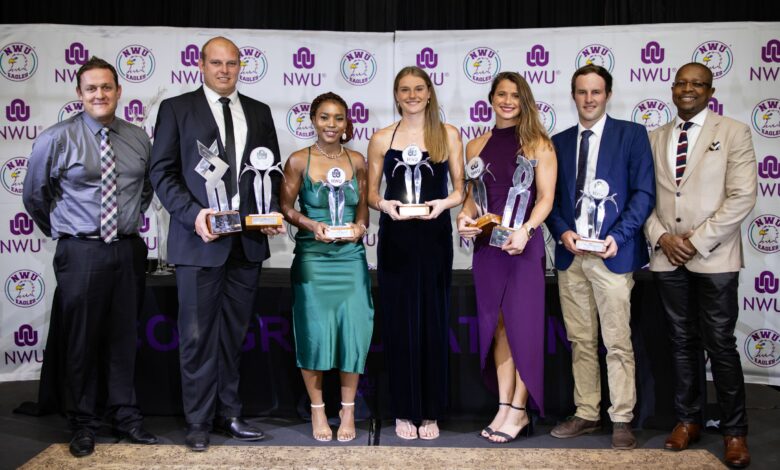 Winners! From the left is Sheldon Rostron (sports manager at the Potchefstroom Campus), Alan Cumming, Christa Ramasimong, Karmen Fouché, Jo-Ané van Dyk (Senior Sportswoman of the Year), Arno Steyn (Junior Sportsman of the Year) and Dr Sibusiso Chalufu (executive director of Student Life at the NWU). Photo: Tian du Preez.