The Community Psychosocial Research (COMPRES) entity in the Faculty of Health Sciences recently donated eight computers (including screens, keyboards and mouses) to the Hoër Volkskool Potchefstroom. The desktop computers were no longer being used at the NWU, as they are not compatible with Windows 10. However, the reading programmes at the school can run on Windows 7 and the computers are therefore still of great value to the school.
Among other things, the school wanted to create a reading lab to which teachers can refer struggling learners to receive additional help. No funding from the Department of Education is currently available for this or any additional projects. Therefore, this project relies solely on donations and community support. COMPRES has a specific interest in the well-being of children and young people and saw the need and opportunity to assist by donating the computers.
Failing to complete high school can handicap a person for life. The learner who leaves school without completing their school education has fewer prospects in life. "Recent studies have shown that supporting technology, for example computer labs, reading centres, whiteboard technology, and equipment to support slower learners are essential to high school success," Prof Retha Bloem, research director at COMPRES, says.
The evidence shows that equity can go hand in hand with quality; and that reducing failure at school strengthens the capacity of individuals and societies to respond to a recession and contribute to economic growth and social well-being. This means that investing in high-quality schooling and equal opportunities for all from the early years to at least the end of Grade 11 is the most profitable educational policy.
A large percentage of learners at Hoër Volkskool Potchefstroom are not privileged to own technology or a computer at home to use in their learning process.  This creates an unequal context for learners in the school. The computers that COMPRES donated will help to balance out this inequality.
The computers provided will be used in a reading lab for learners to use after hours or during school hours. The aim is for them to also be able to do research on the computers, have access to information and internet facilities without the burden of data and internet challenges. Mrs Megan St. Clair-Chicker, the IT teacher at the school, will be running the new reading programme from next year. "This donation is sincerely appreciated and will definitely help me a lot in my reading centre next year," she says.
In future, COMPRES would also like to be involved in tackling system level policies that hinder equity in the school and in improving the performance of low-performing disadvantaged learners.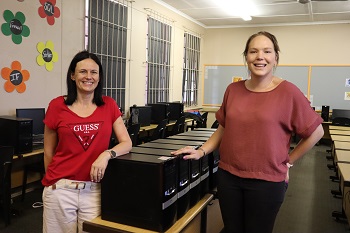 Wilna Viljoen from the Faculty of Health Sciences handing over eight desktop computers to Mrs Megan St. Clair-Whicker at the Hoër Volkskool Potchefstroom.