Abuse of the elderly is a topic that is often overlooked in our society. For one PhD Social Work student, this did not go unnoticed. Gcotyiswa Mtiya-Thimla completed her PhD in Social Work at the North-West University (NWU) (2020), where she focused her research on elder abuse. She developed a social-work trauma intervention for abused older persons. "This is pioneering in the field and deserves recognition," Prof Mariette van der Merwe, the promoter of this study, shared.
Gcotyiswa explains that South African legislation and policies cover domestic violence and child abuse in depth. However, there are no clear guidelines, policies or protocols when it comes to elder abuse intervention. Gcotyiswa says that social workers lack knowledge, skills and techniques in managing elder abuse in resource-poor communities. "That is why I felt the need to develop a social-work trauma intervention for elder abuse," Gcotyiswa stated.
This research study was based on Gcotyiswa's experience and observations in her work as a social-work policy developer for older persons at the provincial office (Free State), where she has been employed since 2007. Cases of elder abuse are reported directly to her. "My work position has afforded me the opportunity to observe social workers providing care and support to the victims of elder abuse using the Protocol on Management of Elder Abuse (2010)," Gcotyisa says. "However, the protocol only provides procedures to be followed when reporting elder abuse, and there is little evidence of planned trauma intervention sessions to assist the older persons to deal with the trauma," she concludes.
Prof Van der Merwe notes that undergraduate courses in social work are generic and cannot include much regarding interventions for specific traumatised populations, such as abused older persons. This is why Gcotyiswa's intervention research offers a tool for the social work professions, and perhaps some of this could be added to future course content for social work students.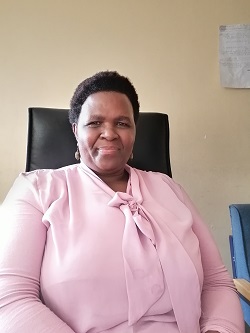 Gcotyiswa Mtiya-Thimla completed her PhD in Social Work at the North-West University, focusing on elderly abuse.