Two technology projects recently received honours at this year's Innovation Hub GAP awards that were held on 10 December 2020.
The Innovation Hub, the innovation agency of Gauteng is a wholly owned subsidiary of the Gauteng Growth and Development Agency.  It was established by the Gauteng Provincial Government through its Department of Economic Development to promote economic development and competitiveness in Gauteng through fostering innovation and entrepreneurship.
The GAP Innovation Competition looks for innovators, researchers and entrepreneurs who are working on novel technologies that will improve the efficiency of government service delivery, increase the competitiveness of the local economy and enhance the quality of life of ordinary citizens. Categories are in the information and communications (ICT), the medical field, biosciences and green economy.
Dr Hanli de Beer, a food scientist in consumer sciences at the Faculty of Health Sciences, and Mrs Doret Kruger, senior commercialisation specialist from the Technology Transfer and Innovation Support Office, were awarded the third place for their entry in the biosciences innovation category.
They made use of extruder technology to produce high-protein pasta from peanuts and other protein-rich plants. This pasta is a pre-cooked carbo-protein combination, LeguPro, with a higher nutritional value compared to commercial pasta like spaghetti, macaroni, and 2 Minute Noodles.
It is affordable and requires a shorter preparation time. This new pasta variety is a high-protein, high-carbohydrate, gluten-free food product that is affordable for low-income consumers. The instant noodle option offers a healthier higher protein alternative to current foodstuffs and has an improved taste.
In the medical innovations category, Hannes Malan from the Technology, Transfer and Innovation Support Office along with  Prof Leenta Grobler and Dr Henri Marais from the School of Electrical, Electronic and computer engineering were awarded second place for their remote ventilator monitoring system, which enables hospitals and health professionals to monitor diverse fleets of hospital equipment remotely from a single display dash board. It is expected to provide significant breakthroughs for future health pandemic situations.
"I presented a comprehensive business plan and delivered an investor pitch for the novel remote ventilator monitoring solution that Henri and I are developing," says Leenta.
This programme involved intensive training and evaluation by experts from the Goizueta Business School of the Emory University (in Atlanta, Georgia) in addition to that of some local entrepreneurs associated with the Innovation Hub.
"In addition to finishing second place, we also won R200 000 in seed funding for Med-E-hive, as well as business support services rendered by the Innovation Hub,"said Leenta.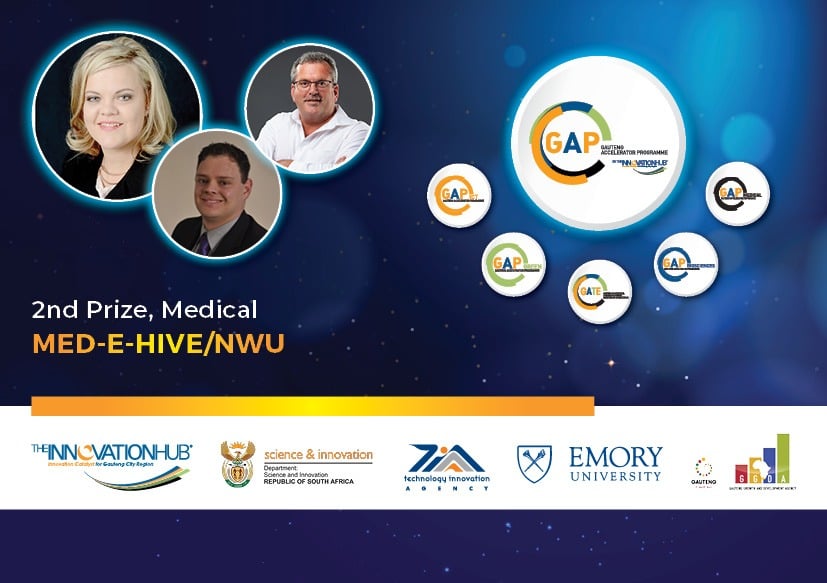 Hannes Malan, Prof Leenta Kruger and Dr Henri Marais won the second prize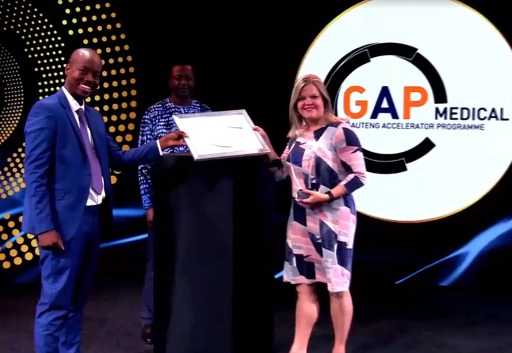 Prof Leenta receiving the award