A novel international research project focusing on human exposure to uranium in South African gold mining areas, has concluded that residents living in and near gold mining areas are exposed to elevated environmental levels of uranium.
The latter eventually finds its way into the human body giving way to adverse health effects.
The methodology and findings of the study "Human Exposure to Uranium in South African Gold Mining Areas Using Barber-based Hair Sampling" was recently published in the PLOS ONE journal, an inclusive platform aimed at advancing science for the benefit of society.
According to Prof Frank Winde, a research professor in the School of Geo and Spatial Sciences on the North-West University's (NWU's) campus in Vanderbijlpark, the study represents the first direct human exposure measurement in the area concerned.
Taking into account research previously conducted by the International Agency for Research on Cancer (IARC) – an arm of the World Health Organisation (WHO) – the scene was set for this international interdisciplinary research project.  The IARC found that uranium pollution in gold mining areas in the Witwatersrand area is 20 times more than the US and Canada combined.
Hair sampling to investigate uranium exposure
Against the background of an estimated 1,6 million people who, in Gauteng alone, live in close proximity to tailings dams, Prof Winde developed maps to identify the areas in which people are most likely to be exposed to high levels of uranium.
He furthermore explains that the pathways through which residents are exposed include the inhalation of windblown tailing dust and radon; consumption of polluted river water and groundwater; ingestion of food produced with contaminated water, including home-grown vegetables, meat and milk from domestic livestock; eating fish from polluted water; and intentional and unintentional consumption of contaminated soil, sediment and tailings material.
In Gauteng, hair salons in wards with potentially high exposures were identified spanning the West Rand goldfield (Tudor Shaft, Kagiso Extension 6, Kagiso Extension 8, Rietvallei, Azaadville and Mindalore), in proximity to the upper Wonderfonteinspruit, a heavy mining-polluted stream.
Salons in Khutsong North – on the far West Rand goldfield – were also selected, as well as salons in Diepkloof Zone 4 and Noordgesig, in the western part of the Central Rand goldfield. In terms of control sites, salons in Alexandra, Laudium and Randburg were selected.
The research team analysed hair samples from 1 332 consenting individuals, which were collected from the selected barber shops over one to two months. A total of 70 uranium concentrations were determined in 27 composite samples from the research group.
In explaining the findings, Prof Winde says that the most important finding is that uranium levels in hair are clearly elevated across the board compared to the values for non-exposed individuals elsewhere. He ventures as far as to say that a significant number of samples showed uranium levels similar to those found in uranium miners in Slovenia.
Research to pave the way for future studies
As is the case with every new research method – in this case the use of hair-sampling – the researchers experienced several difficulties. An example is salons in non-exposed populations showing elevated levels of uranium due to barbers being located near taxi ranks and thus likely to also serve commuters living in mining areas and not only local residents.
"It is normal that by applying a new method of sampling, strengths and weaknesses are discovered, which further improve the method for future applications," says Prof Winde, and adds that the results warrant a follow-up study.
* Prof Winde published the findings of the study together with Dr Gerhard Geipel (Helmholtz-Zentrum Dresden-Rossendorf, Institute for Resource Ecology, Dresden, Germany), Carolina Espina (International Agency for Research on Cancer (IARC), Section of Environment and Radiation, Lyon, France) and Dr Joachim Schuz (International Agency for Research on Cancer (IARC), Section of Environment and Radiation, Lyon, France).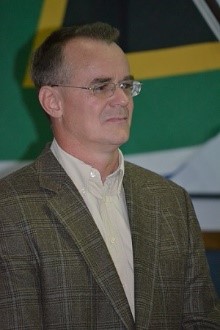 Prof Frank Winde