Professor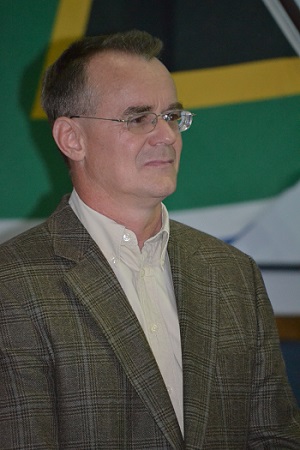 Frank is a German citizen and came to SA as part of the Excellence Programme of the German Academy of Natural Scientists Leopoldina investigating waterborne uranium migration in mining areas of Germany, South Africa, Australia and Namibia.
As former head of the Rewatering Research Programme of the South African gold mining industry in the Far West Rand Winde is intimately familiar with mining-related environmental challenges. Winde and the Mine Water Re-Search Group he founded led a number of high-profile investigations into mining-related risks including the highly publicised study on AMD risks in central Johannesburg ('Winde Report'), impacts of peat mining on water flow and quality, uranium contamination in the Wonderfonteinspruit and its impact on the water supply of Thlokwe, heading the international Specialist Task Team on remediation of radioactive mine legacy sites on behalf of the National Nuclear Regulator, and being appointed co-chief assessor for evaluating Phase VII of the International Hydrological Programme of UNESCO.
Since 2016 Winde chairs the IGU Commission of Water Sustainability. He is reviewer for over 30 ISI-listed scientific journals and frequently advises national and international science funding bodies as well as governmental departments, municipalities, industry as well as civil society on scientific issues.
The MWRG, in collaboration with the International Agency for Research on Cancer of the WHO and the HZDR in Germany, currently investigate effects of uranium exposure in gold mining areas of the Witwatersrand on the burden of disease in affected residents.
Jointly supported by the German and South African Academies of Science Winde, in 2017, organised an international conferences on the sustainable use of abandoned mines focussing on the innovative solutions. At this conference Winde and his team presented first results of a study supported by Eskom and Sibanye-Stillwater exploring the use of deep level mines for generating and storing energy.
Telephone Number
+27 (0) 16 910 3447
Cellphone Number
0724059561
E-mail
frank.winde@nwu.ac.za
Other Media
Recent papers (2014-2018)
Use of abandoned mines
Kaiser F, Winde F, Erasmus E (2018): Storing energy in disused mines: comparing pumped water- and compressed air-based technologies. International Journal of Mining and Mineral Engineering, Inderscience Publishers, ISSN online: 1754-8918, ISSN print: 1754-890XIJMME-manuscript no160290, http://www.inderscience.com/info/ingeneral/forthcoming.php?jcode=ijmme
Conference on abandoned mines in the SADC region (conference report): doi http://dx.doi.org/10.17159/assaf.2018/0025
Winde F, Kaiser F, Erasmus E (2017): Exploring the use of deep level gold mines in South Africa for underground pumped hydroelectric energy storage schemes. Renewable and Sustainable Energy Reviews, 78, 668-682, http://dx.doi.org/10.1016/j.rser.2017.04.116
Uranium-related health risks
Winde F, Brugge D, Nidecker A, Ruegg U (2017): Uranium from Africa – an overview on past and current mining activities: re-appraising associated risks and chances in a global context. Journal for African Earth Sciences, 129, 759-778, doi: 10.1016/j.jafrearsci.2016.12.004
Winde F, Erasmus E, Geipel G (2016): Uranium contaminated drinking water linked to leukae-mia – revisiting a case study from an arid sheep farming area in South Africa. Science of the Total Environment, 574, 400-421, doi 10.1016/j.scitotenv.2016.09.035
Winde F (2016): Uranium pollution in South Africa: past research and future needs. Croation Geographical Bulletin (Hrvatski Geografski Glasnik), 77/2, 33−53, http://hrcak.srce.hr/index.php?show=toc&id_broj=12342&lang=en
Schonfeldt SJ, Winde F, Albrecht C, Kielkowski D, Liefferink M, Patel M, Stoch L, Whitaker C, Schüz J (2014): Health effects in populations living around the uraniferous gold mine tailings in South Africa: gaps and opportunities for research. Cancer Epidemiology, 38, 628-632, https://www.ncbi.nlm.nih.gov/pubmed/25023081
Furlow, Bryant (2014): Mining pollution: a legacy of contamination. Lancet Oncology, published only 11 April 2014 (news); www.thelancet.com/oncology; http://dx.doi.org/10.1016/S1470-2045(14)70157-3)
Karst hydrology
Schrader A, Winde F (2015): Unearthing a hidden treasure: 60 years of karst research in the Far West Rand. South African Journal of Science, 111 (5/6), http://dx.doi.org/1017159/saja.2015/20140144
Schrader A, Erasmus E, Winde F (2014): Determining hydraulic parameters of a karst aquifer using unique historical data from large-scale dewatering by deep level mining – a case study from South Africa. Water SA, 40 (3), 1-15
Schrader A, Winde F, Erasmus E (2014): Using impacts of deep-level mining to research karst hydrology – a Darcy-based approach to predict the future of dried-up dolomitic springs in the Far West Rand goldfield (South Africa). Part 1: a conceptual model of recharge and inter-compartmental flow. Environ Earth Sci, DOI 10.1007/s12665-014-3263-0
Schrader A, Winde F, Erasmus E (2014): Using impacts of deep-level mining to research karst hydrology – a Darcy-based approach to predict the future of dried-up dolomitic springs in the Far West Rand goldfield (South Africa). Part 2: predicting inter-compartmental flow and final groundwater tables. Environ Earth Sci, DOI 10.1007/s12665-014-3298-2
IHP (Phase VII) review report
Jones JAA, Winde F (2014): Evaluation Report of the International Hydrological Programme Phase VII (2008-2013). In: UNESCO (2014): Evaluation of Phase VII (2008-2013) of the International Hydrological Programme, June 2014. http://unesdoc.unesco.org/images/0022/002280/228062E.pdf