University curricula must incite difficult conversations to meet today's challenges, and in recent years there has been a growing movement towards decolonising the education curriculum in South Africa. The question of "what knowledge is of most worth", or "whose knowledge is of most worth" has been at the heart of this debate.
"These complicated conversations on decolonising the curriculum have opened alternative pathways to understanding the deep-rooted epistemic injustices that remain alive through the curriculum," says Prof Shan Simmonds, sub-area leader in the Education and Human Rights in Diversity research unit at the School of Education Studies of the North-West University (NWU).
Her focus began by looking into what Canadian educationist Bob Jickling regards as "wild pedagogy", and why this concept is an essential aspect of education in these times. The concept suggests that if education and the curriculum are to be untamed and rewilded, they must invoke alternative approaches to being, and thus to doing education.
To untame and rewild the curriculum means to challenge and transform traditional educational approaches that are heavily focused on standardised testing, rote memorisation and rigid structures. It involves adopting more holistic, student-centred and experiential learning practices that encourage curiosity, critical thinking, creativity and real-world application of knowledge.
So, as part of her research, Prof Simmonds participated in a teaching course invoking wild pedagogy in September 2023 at Vrije University, Amsterdam, as part of a mobility grant. Instead of a conventional classroom setting, students received their course/learning at a farm in the Amsterdam forest in the Netherlands, learning through and with nature.
"We embraced this form of learning and experienced having Beitske Bouwman as one of the presenters. Beitske founded the Anaya Academy (https://www.anaya.nl/) in 2019, which focuses on the connection between people and nature and vice versa," Prof Simmonds says.
According to Prof Simmonds, the purpose of this approach to teaching is to challenge neoliberal education structures focused on the importance of measuring and assessing performance.
"This approach is important because the traditional curriculum tends to stifle students' natural curiosity and love for learning. It often fails to address the diverse needs and interests of students, and it limits their potential for personal growth and success. By untaming and rewilding the curriculum, teachers can create an inclusive and engaging learning environment that promotes deeper understanding, autonomy, and lifelong learning skills."
This approach also helps students develop a sense of agency, adaptability and resilience, better preparing them to navigate a rapidly changing world.
"South Africa's curriculum remains focused on humans without consideration for the more than human world and it is also too focused on Eurocentric learning. Curricula need to push the boundaries towards alternative ways of learning," she adds.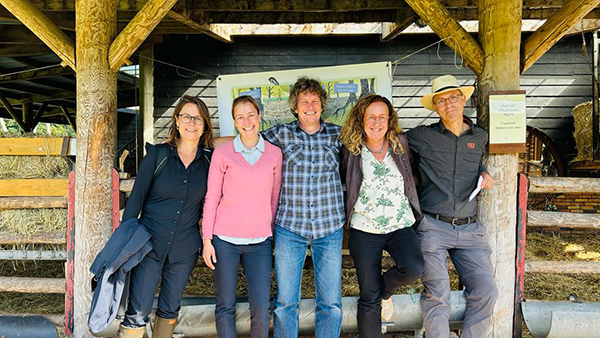 From the left are Beitske Bouwman, founder of the Anaya Academy, Prof Shan Simmonds, sub-area leader in the Education and Human Rights in Diversity (Edu-HRight) research unit, Prof Harry Wels from the Vrije University, Prof Ida Sabelis, also from the Vrije University and extraordinary professor at Edu-HRight, and Frans Kamsteeg from the Vrije University.