Director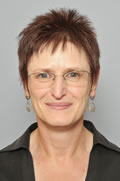 I, Sandra van Dyk obtained my BPharm, MSc and PhD degrees from the North-West University (previously the Potchefstroomse Universiteit vir Christelike Hoër Onderwys) and I am currently employed as the Director of the School of Pharmacy Faculty of Health Sciences as an Associate Professor
I am both an academic scholar and a registered pharmacist with interest in Pharmaceutical Chemistry and the profession of Pharmacy.  As an academic in the field of Pharmaceutical Chemistry I have experience in teaching-learning and research and as a Pharmacy Professional I have experience in general management, commercialisation and work-integrated teaching-learning.
As a member of the Executive Committee of the Academy for Pharmaceutical Sciences sector of the Pharmaceutical Society of South Africa I have extensive knowledge of the interaction between the different sectors of the profession of Pharmacy, tertiary education, the Statutory Councils and other healthcare sectors.
Teaching-Learning:  I have twenty two years of experience in undergraduate teaching-learning as a lecturer and course/module co-ordinator for Pharmaceutical Chemistry.  I have valuable knowledge in the development of new programmes and the internal and external evaluation and approval processes involved.  I am involved as an external examiner in various courses/modules in Pharmaceutical Chemistry presented by Schools of Pharmacy at the University of Limpopo, the University of the Western Cape, the University of the Witwatersrand and the University of Namibia.
Research:  I have trained twenty six postgraduate students.  I am author/co-author of a number of peer reviewed publications and have participated at national and international conferences.  I act as external examiner for a number of Universities and as a reviewer for various peer-reviewed journals.  My research focusses on sourcing compounds with anti-oxidant properties that are able to cross the blood-brain barrier from plants as well as synthetic methods.
Physical Address
Faculty of Health Sciences
Telephone Number
018 299 2267
E-mail
sandra.vandyk@nwu.ac.za