Why try to reinvent the wheel when others are facing similar challenges and together you could succeed in "connecting to ignite a growth revolution"?
This was the thinking of the team of researchers from the North-West University's (NWU's) Optentia research focus area who visited Namibia to foster relationships with government, business, labour and NGOs in that country.
"The best research is done when researchers are able to collaborate freely to bring their knowledge and experience to answer a particular question," says Prof Ian Rothman, director at Optentia.
"In the case of this visit, we embraced the idea of collaboration across disciplines to answer the most pressing socio-economic questions facing South Africa and the African continent at large."
Like South Africa and other countries in the Southern African Development Community (SADC), Namibia's key challenges are poverty, inequality and unemployment, as well as leveraging the opportunities presented by the Fourth Industrial Revolution.  
"It was encouraging to see academics and researchers express a strong need to become involved in collaborative multidisciplinary research with African neighbours such as South Africa," says Prof Rothman.
The Optentia delegation connected with academics from the Namibian University of Science and Technology (NUST) and the University of Namibia (UNAM). They also met with the Ministry of Labour, Industrial Relations and Employment Creation, the Ministry of Sport, Youth and National Service, the Ministry of Health, the United Nations Development Programme (UNDP) and representatives from business and labour.
The theme of the visit was "Connecting to ignite a growth revolution in Southern Africa", by drawing on multidisciplinary inputs so that countries can optimise their potential and move from precarity to capability.
This was one of Optentia's first major engagements with researchers and organisations from neighbouring countries. Up to now, most of the unit's outside connections have been with extraordinary professors from outside Africa.
"Questions such as unemployment, inequality, poverty, and skills development are questions universal to Africa and as such fostering relationships with researchers and organisations from neighbouring countries such as Namibia makes sense," Prof Rothman says.
The notion of igniting a growth revolution fits well with Agenda 2063, the African Union's plan to transform Africa into a global powerhouse for the future.
Research and relationships to benefit Agenda 2063
Agenda 2063 is a strategic framework that aims to deliver on the goal of inclusive and sustainable development and is a concrete manifestation of the Pan-African drive for unity, self-determination, freedom, progress and collective prosperity.
While much collaboration takes place between African countries and countries outside the continent, very little happens between African countries themselves. For example, only 18% of trade in Africa takes place between African countries. While Agenda 2063 sets a bold agenda for the future, it also necessitates an investment in knowledge creation that makes sense for the socio-economic contexts of the continent.
Prof Rothman says that when resources are pooled, workable solutions can be sought to support the Agenda 2063 vision.
He sees the following research areas and projects as vital to the Namibian context:
Youth unemployment (to include job interventions, integration of skilled retired persons in the workplace as mentors or coaches and entrepreneurship).
An investigation into the anger of young unemployed people (to include interventions to channel this anger in constructive ways).
Studies of ways in which hope can be instilled among the youth in Namibia.
A focus on the employability of graduates of UNAM and NUST.
An investigation around possible interventions to improve the implementation, monitoring and evaluation of the so-called "silo mentality", primarily at ministries level.
Economic impact studies.

The various meetings and discussions have already paid off in terms of future research projects.
Prof Ansie Fouché, programme leader of the Optentia Strengths-based Studies and Interventions sub-programme, had fruitful discussions with social work colleagues at UNAM. Together, they are exploring the possibility of a joint research project to develop a therapeutic guideline that social workers could use when providing counselling for child victims of sexual abuse.
Similarly, Dr Rachele Paver, an Optentia postdoctoral fellow, met with a number of colleagues eager to work with her on her research project, which focuses on closing the gap in the labour market from the employer's side, with a specific focus on major industries in each country.
Collaboration with the UNDP's Accelerator Lab, which is currently focusing on informal settlements as the most precari communities, is also on the table.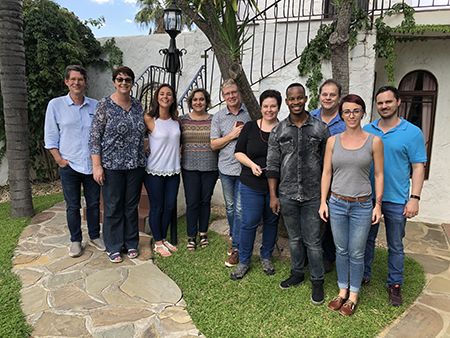 The Optentia delegation from left to right are Prof Jaco Hoffman, Prof Mirna Nel, Dr Rachele Paver, Prof Ansie Fouché, Prof Lucius Botes, Anjonet Jordaan, Sibusiso Mnxuma, Prof Ian Rothmann, Dr Zandri Dickason and Dr Kleinjan Redelinghuys.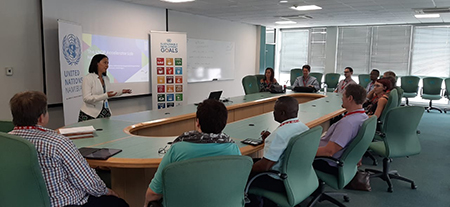 Dr Yrika Maritz from the UNDP's Accelerator Lab addresses the Optentia delegation.  Underlying the idea of the lab is the reality that the challenges countries face are growing exponentially. The lab offers a novel approach to collaboration with various communities to find evidence-based solutions to real problems.