Chederick van Wyk was born in the year of champions, and that is what he has become. The world first met this future sprinter on 18 February 1995, a few months before the Springboks lifted the Web Ellis Trophy on a historic afternoon at Ellis Park. Destiny also had a plan for the young boy from Prieska.
Between 2018 and 2019 Chederick was at the peak of his prowess. From 28 April 2018 to 11 July 2019 he ran his personal best times in the 100 m (10,18 s), 200 m (20,44 s) and 4 x 200 m (1:20,42) events. The first occurred in Sasolburg, the second in Yokohama and the third in Naples.
A popular figure, Chederick was voted captain of the North-West University athletics squad that is based in Potchefstroom. "I was voted captain of the squad in October2019 and we haven't had an election since," he explains.
Like so many other things, the Covid-19 pandemic severely derailed his preparations, and a stubborn ankle injury has contributed to the fact that he has not yet been able to reclaim his form of about two years ago.
"After Covid-19 and the lockdown I just want to run again. I just want to get through this year, but I have big plans for 2022," he says.
He wants to set the example again.
When not practising or studying for his degree in Education at the NWU, Chederick likes nothing more than to spend time with his girlfriend of eight years, Jacqueen Adams, his family and friends. "My friends aren't athletes, so it is sometimes nice to get away from the sport and just to relax."
During the recent South African Championships his ankle injury flared up again and he had to withdraw during the competition. He has made peace with that, as he maintains that 2021 is all about getting back to where he knows he should be: in front on the track, the leader of the pack.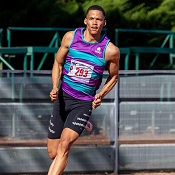 Chederick van Wyk