On Friday, 3 February, the North-West University (NWU) Business School concluded its Summer Study School for MBA students. Overall, the week was a resounding success, with students testifying to tremendous value gained in terms of networking, keynote inputs and a better understanding of what to expect from the programme this year.

In addition to various networking activities and academic lectures, the Business School welcomed insights shared by various guest speakers on responsible leadership, whether through their roles in corporate governance or the example they set in terms of environmental sustainability.

The first of two keynote speakers was Prof Mohlolo Samuel Tsoeu, who spoke on negotiating inner conflicts around the search for responsible future leaders. With his input, Prof Tsoeu hoped to spark conversation among peers and lecturers regarding issues, philosophies and psychologies that are open for interpretation. His goal was to move current and future executives to own the spaces they operate in and own the problems in those spaces, and to come up with solutions.

In the second keynote address of the week, Charné le Roux spoke about responsible management in the context of environmental sustainability. We all understand that it is important for companies to be sustainable, but there is also a misconception among many that sustainability is simply a public relations matter, or a luxury investment. In truth, sustainability is a long-term investment that directly affects profitability. Though becoming sustainable is a process that is lengthy and often may seem daunting, it is the way to go to ensure the survival of a business in the long run.

To end off an intensive week filled with much learning, sharing and networking, staff and students enjoyed a German-themed gala evening, where they were welcomed with beer on tap and excitedly commemorated the connections formed during the week. The guest speaker of the evening was Marius Mostert, founder, chairperson and chief technical officer of the MCORP Group.

Marius has been in telecoms for nearly five decades and holds a BEng degree in electronic engineering from the University of Stellenbosch, as well as a BCom degree from the University of South Africa. He also studied technology management at the Massachusetts Institute of Technology (MIT) in Boston. Marius not only shared his industry experience with the students, but also the soft skills he gained in his 49 years in the fastest-growing industry in the world.

The students were excited to learn how he, as chief technical officer at Telkom at the time, navigated the analogue-to-digital era. He shared the highlights of his career, including preparing the Telkom network for the 2010 FIFA World Cup hosted in South Africa, as well as the first ICC World Cricket League tournament on the continent during the same period.

Marius' passion includes capability management and how companies can take advantage of this phenomenon. His opinion is that the biggest industry challenge in South Africa today is to gauge whether people are capable enough to do their work and, if they are, whether they have the capacity to do so.

He humbly answered questions from students regarding how to choose the right mentor in one's career and how to mentor a junior in one's company. "Do not choose a mentor who will mould you into another him/her. Rather choose someone who will identify your unique qualities and strengths to lead you on a growth journey. The same goes for choosing a mentee. It is crucial to listen, understand and respect the views of your mentee," he shared.

It is safe to say that the Summer Study School has served its purpose, which was to establish and orient the Phase 1 students as a larger group, as well as in their respective groups for their assignments this year; to reactivate the Phase 2 students as they start their second year of MBA; and to position current and future executives for effective and ethical leadership and sustainability.
Charné Le Roux, one of the keynote speakers during the programme.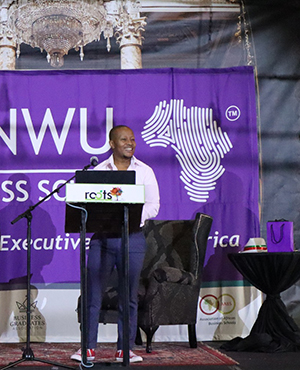 Prof Mohohlo Samuel Tsoeu spoke to the issues affecting executives.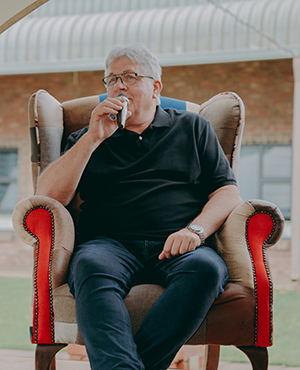 Marius Mostert addressed the participants during the gala event.