It is a sizzler of a Thursday afternoon with the mercury as high as load-shedding tempers. However, the team room of the Rugby Institute at the North-West University (NWU) – no, the war room – is cool. A table-sized replica of a rugby field greets you as you enter the room, as does Burger van der Westhuizen, the new Varsity Cup coach for the NWU Eagles.
He positions himself at the table. Behind him, on two large drawing boards, are the names of the players constituting the Eagles' Varsity Cup group. Beside each name is a time. Every five minutes he sees one of his troops in a one-on-one meeting. Field Marshall Van der Westhuizen and his citizen force.
"Today we had a practice session about which I am very excited," he says. The next session is going to focus on counterattacks. The wheels on the Fanie du Toit sports grounds are really turning.
His rugby philosophy is without frills: "Run hard and tackle hard. It is as simple as that. At the Rugby Institute we like keeping up the tempo and we like the physical part of the game."
His two adjutants, Chaka Willemse (forwards) and Jean Tiedt (defence), together with Van der Westhuizen, constitute a formidable threesome, and the eagles definitely do not lack coaching experience. Their ranks are further supplemented by Bert Moolman as strength and conditioning coach.
"As coach I want tries scored to collect bonus points, and with Jean's absolute focus on defence we naturally want to get hold of the ball again as quickly as possible."
And the guys know what they are playing for under their coaching team. Van der Westhuizen points to the single, framed purple jersey on the wall.
"You will see that that is all we have mounted. We are going to make that an expensive jersey." "Expensive" means the players will have to work for it. "Expensive" means they will have to make an effort to earn it.
"I am very excited, but it will not be easy. I am considerably busier and get less sleep, but it is a challenge I embrace. We want to continue building on what is already in place, but naturally you also want to implement your own ideas," he says.
And then he has to face the firing squad from the word go too.
"Yes, those first four games!" he laughs. "We are playing UJ, Shimlas, Maties and Tuks one after the other." Luckily the first three are at home.
Van der Westhuizen has been officially involved with the Rugby Institute since 2012. He first cut his teeth with the Young Guns and later with the university's first team before the reins as coach of the Varsity Cup team were entrusted to him after his predecessor André Pretorius, had taken off for Japan. However, he has been with the institute in other unofficial capacities for much longer.
In addition, this 57-year-old is as much part of Potchefstroom as the Mooi River. This is where he was born and went to school. Gimmies, if you were wondering, and do not dare to forget it. His father had been a teacher at Gimmies, he himself had been a teacher there and all his sons went to school there.
Now the next chapter in his career is being written. If the previous pages are a measure of his skill, this one may well be just as nice a read.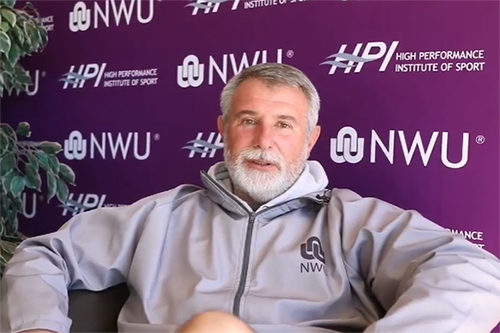 Burger van der Westhuizen