Promoting indigenous African languages as a medium of instruction is imperative if we want to preserve our cultural heritage, improve learning outcomes and reduce language barriers. This was again evident during the 2023 BAQONDE congress, which was held at the North-West University (NWU) from 1 to 5 May.
BAQONDE is a collaborative project between the European Union, four South African universities (the NWU, the University of KwaZulu-Natal, the University of the Western Cape and Rhodes University), Trinity College Dublin (Ireland), the University of Groningen (the Netherlands) and the University of Salamanca (Spain). This project aims to aid the implementation of the Language Policy Framework for Public Higher Education Institutions, which prioritises the development of African languages as a medium of instruction.
Each day of the congress saw a number of presentations under an overarching theme: Historical and Cultural Fest of the North West Province; Multilingual Policies in Institutions of Higher Learning: From Policy to Practice; Language Policy Implementation Enablers: Multilingualism in Action; Technology and Multilingualism in Institutions of Higher Learning, and, lastly, Multilingualism in Action.
"It is a known fact that students do better when they learn in their mother tongue. Taking that into account, we want to enable a generation of citizens – through mother tongue education – to be more productive and better professionals," says Prof Pedro Alvarez from the University of Salamanca.
According to Dr Keaobaka Seshoka, director of the NWU's Language Directorate, one of the highlights of the BAQONDE congress has been the collaboration between the various participating universities: "It means we do not have to reinvent the wheel. We share our resources and we share our knowledge. We do not have to start from scratch. It also allows us to do an audit of the whole of the language resources at our disposal and to discern how we can assist each other in making our collective resources available to our students."
"It is a very effective way of maximising our impact. At the end of the day we want our students to excel," says Prof Alvarez.
Dr Seshoka further explains that more can be done in the digital sphere to make indigenous languages visible there, and to allow for resources to be more accessible to students. Alvarez concurs: "We have so many capable people in so many languages in South Africa, but they have been like islands in this ocean of options. We are connecting the islands and we are connecting the currents. It is all about creating spaces like these where we can put ideas together."
Dr Seshoka conludes by saying: "BAQONDE has helped us to understand what other universities are doing in terms of multilingualism. We do not have to work in silos. We need to collaborate for the benefit of our students."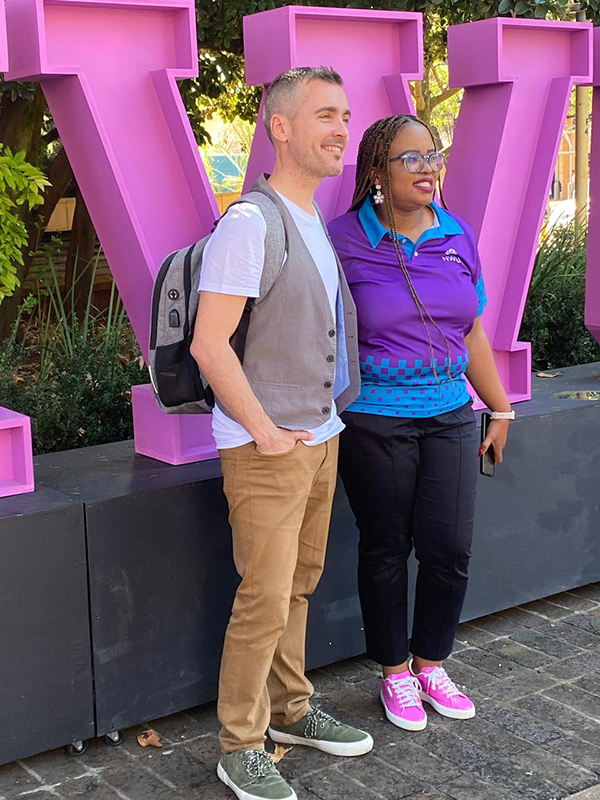 Dr Keaobaka Seshoka with Prof Pedro Alvarez on the Potchefstroom Campus.