The true value of art far exceeds its monetary worth. Its beauty may astonish us and its meaning touches hearts, thoughts and souls for generations after it has been created. An NWU alumnus's artworks have masterfully captured his "film-strip" impressions of lockdown, the Covid-19 pandemic and global warming, and earned him first prizes in two prestigious international competitions.
Christiaan Diedericks, an acclaimed professional artist known especially for his conceptual printmaking techniques in both traditional and experimental art, has just won two major international art competitions in Australia and Italy.
At the fifth InkMasters biennial, InkFest 2021 in June in Cairns, Australia, Diedericks was named overall winner of the Doctor Raya Mayo Award, with prize money of 8 000 Australian dollars.
Just a week ago, Christiaan was awarded the Mudi in Arte 2021 first prize of 1 500 euros at the Diocesan Museum of Salerno in Italy. Christiaan also received the second prize in this competition. His winning works will be included in the permanent collection of the Diocesan Museum and placed among those of 16th-century art masters. 
Let us prey
Christiaan's winning series of works titled Let us prey I - V was created just after the start of the first lockdown. The title of these works is a wordplay on "pray" and "prey", and the artist puts the looting of state coffers and the fact that the government was not ready for the pandemic at the time under a critical spotlight.
He says the work also looks at other current affairs such as the denial of global warming, the impact of fake news, power and the resulting fear caused by the pandemic. "In many ways I aim to 'rewrite' history in my work and look at the dominant sense of self-awareness that informs most Western art practices."
Christiaan is no stranger to awards. He was also the 2020 winner of the grand prize for experimental printmaking at the 8th International Miniprint in Kazanlak, Bulgaria, where he was awarded an exhibition of his work at the grand opening of the event too.
His résumé includes a long list of accolades, solo and group exhibitions in South Africa and 29 arts residencies, the latest being at the London Print Studio in the United Kingdom in 2018. This year, in October and November, he has been invited again to live and work at the Cité Internationale des Arts in Paris for his tenth residency there.
Reflecting on his student days
Christiaan remembers his alma mater fondly. He started studying towards a BSc degree at the former Potchefstroom University for Christian Higher Education in 1983. Majoring in Human Physiology and Human Movement Sciences, he completed his degree in 1986. 
As he was a national athlete at the time, Christiaan's initial intention was to work in sports medicine, but his love for art steered him towards becoming a professional full-time artist.
Christiaan states that he especially enjoyed his art studies during his student days in Potchefstroom, where his work is now in the art collections of the NWU and the Potchefstroom Museum.
"It was a very special time in my life and I will always look back at it with fond memories."
After he had obtained his BA(FA) degree (cum laude) from the NWU, Christiaan completed his master's degree in Fine Arts at the University of Pretoria in 2000 with a distinction for the practical component.
To view Christiaan's artworks, visit the gallery representing him at https://themelrosegallery.com/artists/39-christiaan-diedericks/overview/ or follow him on social media at https://www.facebook.com/christiaandiedericksartist, https://www.instagram.com/christiaandiedericksfineart, or @christiaandiedericksfineart.
*On 17 July Christiaan shared the news that he has won another award and was also included in another international exhibition. His miniature etching "Inconspicuous Contusion" was one of the nine winners at the IOMAC second annual international online miniature art contest and exhibition 2021, Insight, in Bangladesh. His work was also selected for the 2021 India International Spiritual Art Festival.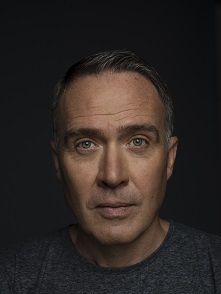 Christiaan Diedericks says in his artist's statement that he aims to present contemporary issues such as Difference as timeless by situating his vocabulary of images and themes in an organic flux of dreams, history, news, commercial detritus, hyper-reality and the unvoiced feelings and forces of biological nature or desire. Photo: Antonia Steyn.

Christiaan Diedericks' winning entry, Let us Prey III (Against the winged dunes), for the Doctor Raya Mayo Award is a dry-point monotype and laser engraving on etching paper. It inspired Melanie Grobler, South African poet and a friend of Christiaan's, to write a poem about it.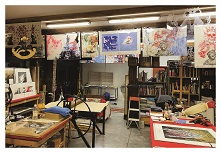 Christiaan's studio is a delight for the eyes with various original art works adorning it.