His name is synonymous with hard defence, smooth skills and an indestructible engine without a reverse gear. Andre Fouché is steel moulded in the forge of the NWU Rugby Institute, and this year his play is the talk of the town.
During the year-end function of the NWU Rugby Institute Fouché was named the Rugby Institute's Varsity Cup Player of the Year. This crack loose forward's leadership, presence on the field, feeling for the game and qualities as team player were mentioned in addition to his physical ability as player. He also received the Management Shield for exceptional performance for the year for his role as part of the triumphant Pumas Curry Cup team.
However, Fouché did not end the evening there. He was also rewarded with the Johan Claassen Trophy as the Rugby Institute's Player of the Year.
Riaan Genis took the Piet Malan Trophy as Backline Player of the Year home and was also named the Players' Player of the Year. With the ball in his hand this scrum half is more dangerous than forgetting your wedding anniversary, and he defends like a tiger. The Chairperson's Trophy as Forward Player of the Year has been placed in Chris Vermaak's display cabinet. His endless energy and his gigantic heart are only a few qualities that come to mind.
Hannes Esterhuizen was named the Coach of the Year for his list of achievements with the junior teams of the Rugby Institute, and the Matt Proudfoot Trophy went to the first rugby team, which won the league.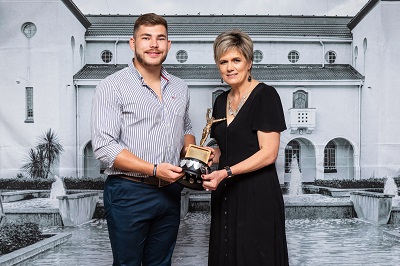 André Fouché with Corrie Rheeder, Campus Director: Student Life.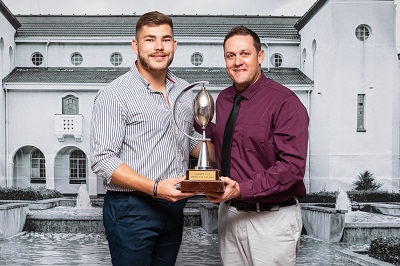 André Fouché with Sheldon Rostron, Sport Manager of the Potchefstroom Campus.