The year 2020 will probably be remembered in history books for the Coronavirus and the Covid-19 pandemic that brought the entire world to a standstill. Suddenly many people learned about viruses, and how they differ from bacteria.
The unseen world of microbiology became part of our daily routines, with social distancing and sanitising practices to combat the spread of the virus, while scientists frantically search for a vaccine.
This highlights the need for a new generation of young scientists to take us into the future and assist humanity to find solutions to problems that threaten its existence.
Prof Josef de Beer, researcher from the Teachers without Borders project in the Faculty of Education's research unit Self-Directed Learning, says the goal of the project is to assist natural sciences, mathematics and technology teachers in their own self-directed learning to become master teachers who inspire inquiring minds and whet young people's appetite for science.
Prof De Beer was one of three North-West University (NWU) researchers selected as finalists for a "Science Oscar" at the 2020 NSTF-South32 Awards. He was nominated for the Teachers without Borders project in the Science Communication category.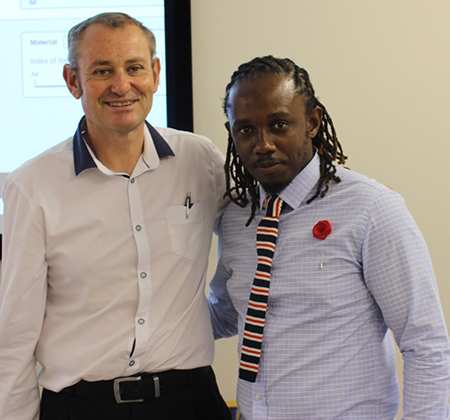 Prof Josef de Beer and Tswakae Sebotsa.
Foldscope microscopes
During the past four years, Teachers without Borders has also promoted scientific literacy in terms of microbiology by distributing "foldscope" microscopes in rural schools and engaging learners in a simplified microbiology technique known as "Kirby-Bauer".
"The microscopes, costing R20 a unit, might be the only practical learning encounter rural learners have with microorganisms," Prof De Beer says.
Another focus of the project is to sensitise teachers to the ways indigenous knowledge can be applied in the natural sciences, mathematics and technology classroom. For example, teachers and learners can test the antimicrobial activity of medicinal (muthi) plants, and in the process, learn about the shared tenets of science and indigenous knowledge.
Similarly, mathematics teachers can include indigenous games such as morabaraba when teaching mathematics curriculum content.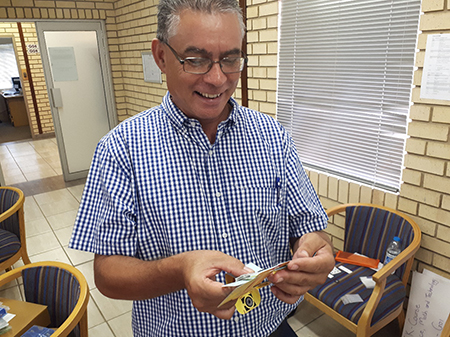 Prof Neal Petersen introduces teachers to the foldscope microscope.
Self-directed learning
In the 21st century it is important that both teachers and school learners become self-directed learners. These are people who can identify their own learning needs and plan strategies and identify resources to help them achieve those learning goals. They should also be able to assess whether they have reached these goals.
"Schools have to prepare learners for possible new careers that are not as yet known. Young people need to do their own research and prepare and capacitate themselves for such careers by acquiring the necessary knowledge and skills," says Prof De Beer.
The big question is whether this indeed happens in a schooling system that is often characterised by transmission-mode teaching and driven by preparing learners for examinations.
"It is therefore very important for higher education institutions to look at how teacher professional development initiatives could enhance teachers' self-directedness, and develop their pedagogical content knowledge in order to meet the demands of preparing learners for modern society that is characterised by continuous change," he adds.
The "decolonisation of the curriculum" is of the utmost importance. Indigenous knowledge could contribute to better contextualisation of science or mathematics curriculum themes, enabling learners to experience the curriculum content as relevant to their own lives.
Prof De Beer is busy with a second PhD in botany and plant biotechnology at the University of Johannesburg to develop a nuanced understanding of indigenous knowledge systems. The focus of his thesis is the rich ethnobotanical knowledge of the San people in the Square Kilometre Array (SKA) radio telescope region in southern Bushmanland in the Northern Cape.
In the study, Prof De Beer juxtaposes the rich indigenous knowledge of the San, the oldest indigenous knowledge system in the world, with the most advanced science and technology (the SKA radio telescope). This juxtaposition also offers a challenge to science teacher: do justice to indigenous knowledge in the classroom while preparing learners for a complex 21st century.
Boomwhackers and puppetry
Another highlight of the project is the "Tshimologo" mathematics kit that Prof Marthie van der Walt has developed for the classroom. Among others, learners from Grades 7 to 12 can engage with music through so-called "Boomwhackers" and learn mathematical concepts (fractions) in the process.
In the foundation and intermediate phase, teachers use puppetry very effectively to teach learners about the nature of science and of indigenous knowledge.
This project, with Prof Neal Peterson as co-investigator, emphasises that learners should enter the science/mathematics classroom as Homo ludens - the playing human. Teachers are shown how a pedagogy of play could support conceptual development of learners. The puppets (sponsored by the Fuchs Foundation) are produced by a marginalised community in Jan Kempdorp, giving the project a strong community engagement and social justice focus, as it puts food on peoples' tables.
| | | |
| --- | --- | --- |
| |   | |
| Prof Marthie van der Walt introduces teachers to Boomwhackers. |   | Teachers experiment with puppetry in the science, technology, engineering, arts and mathematics (STEAM) classroom. |
Recognition
The Teachers without Borders project has received considerable national recognition. In 2019, Prof De Beer received the 2019 NRF Excellence in Science Engagement award. In January 2020, the Education Association of South Africa awarded him its Medal of Honour for the work he has done to promote science education in South Africa.
He says the secret to the project's success is teamwork and passion. Some of the team members have often driven up to 2 000 km in a week to present short learning programmes.
Several master's and PhD students are pursuing postgraduate studies through this project, and approximately 600 mathematics, life sciences and technology teachers in Limpopo, Gauteng, North-West Province and the Northern Cape have participated in short learning courses.
Owing to the Covid-19 pandemic, Teachers without Borders has had to re-invent itself and now has a national online presence, providing a Community of Practice to teachers nationally, from Cape Town to Polokwane.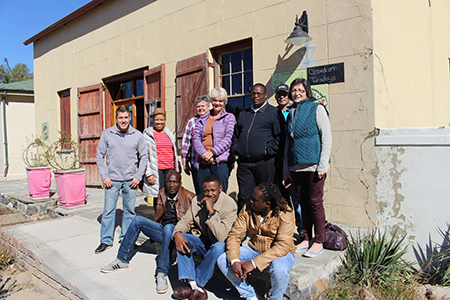 The team en route to Calvinia.