A recent study conducted by a PhD graduate and staff member of the North-West University (NWU) Business School, Dr Lungile Ntsizwane, looked at integrating administrative systems and processes in mergers within South African higher education institutions.
She says higher education institutions go through a complex change management process when merging.
Due to internal and external forces that shape colleges and universities, many higher education institutions adopt mergers as a radical form of institutional restructuring. In South Africa, mergers of higher education institutions emerged as an effort to transform the higher education landscape by eliminating segregation and creating new universities to provide equal opportunities for every person.
"During a merger, some important aspects such as administrative systems and processes that need attention from the pre-merger phase are often overlooked. Mergers are the most complex and challenging type of change that requires strong leadership, management and a communication presence to carry it through, especially when multiple institutions with different cultures and dispersed geographical locations are combined. Post-merger integration is the most crucial phase in determining the success or failure of a merger," says Dr Ntsizwane.
Her opinion on the NWU merger
The integration of higher education administrative systems and processes during the NWU merger in 2004 was a success to a certain degree, she found. However, most of the processes and systems only became integrated years after the merger had taken place. Significant work still had to be done to ensure that the administrative systems and procedures at the institution's three campuses were completely integrated.
"The findings highlighted aspects such as communication, resistance to change, cultural differences, lack of administrative staff inclusion and human resources issues such as staffing, training, language, distribution of resources and geographic location, which had to be considered from the pre-merger phase to eliminate some complications in the merger process.
"Throughout a merger process, some important aspects are neglected and only attended to at a later stage in the post-merger phase. If the identified aspects are addressed early in the merger planning phase, the integration of administrative systems and processes can be realised faster and without many challenges."
Involvement of staff is vital
Dr Ntsizwane says that administrators are at the forefront of university operations, and are therefore essential to the success of mergers.
In order to help smooth the path for future mergers, she has developed an integrative administrative framework for managing mergers in higher education institutions. The framework is intended to guide education systems to better manage the integration of administrative systems and processes part of the merger, which is often neglected. The earlier these are addressed, the better for the success of the merger.
About the researcher
Dr Lungile Ntsizwane obtained a BCom degree in human resource management and industrial psychology, an honours degree in industrial relations, as well as an MCom and PhD, all from the NWU.
Her career spans 16 years in the higher education sector. Having started at the NWU in 2006 as an administrative assistant, Dr Ntsizwane progressed to administrative officer in 2007 and assistant programme manager in 2009, and was appointed programme manager from 2014 to 2021.
Now the senior manager for accreditation and quality at the NWU Business School, Dr Ntsizwane's areas of expertise include academic administration, programme management, quality assurance and accreditations. She leads efforts to obtain accreditations, curriculum reviews and quality assurance to ensure compliance with various national and international accrediting bodies.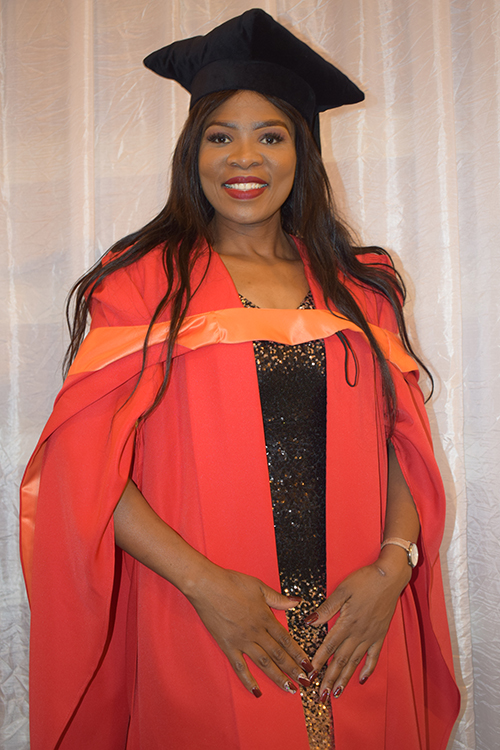 Dr Lungile Ntsizwane.