The burning of fossil fuels and industrial emissions are among the major sources of air pollution in South Africa. However, there are other sources that are found in residential areas, for example unpaved roads, of which there are plenty in low-income residential areas in South Africa.
Air pollution is one of the top environmental problems that have a negative impact on human health and the environment in general.
South Africa's townships are known to have poor air quality, which often violates the country's air-quality standards. One of the reasons for this is dusty, untarred roads in many of these areas.
This is according to a recent study conducted by Ncobile Nkosi, an academic in the subject group Geography at the North-West University (NWU), who found that unpaved roads increase air pollution.
Ncobile measured how much dust – therefore air pollution – is due to cars driving on paved and unpaved roads.
Air-quality inequality
On-road vehicle particulate-matter emissions in South Africa are mostly found in low-income residential areas, and they contribute between 4% and 16% towards ambient pollution, and 9% to 55% towards indoor particulate-matter concentrations. She says people are aware that townships have poor air quality and that there is air-quality inequality in South Africa. This gives rise to sayings like "it's windy in the burbs and dusty in the townships".
"One of the reasons why it is dusty in townships is that 80% of the roads in these low-income residential areas are unpaved," she says.
Explaining how the research was conducted, Ncobile says they had a series of dust trackers that measured fine particulate matter released into the atmosphere as the cars passed by. They also had a traffic counter that measured the characteristics of the car, and a meteorological station to measure wind and the temperature of the atmosphere.
Ncobile integrated all this data to establish how much fine particulate matter is released from unpaved and paved roads as each car passes in order to determine whether paving the roads will be the solution.
 
"If we pave the roads, we could reduce the amount of fine particulate matter in the atmosphere and possibly improve air quality in these low-income residential areas. If we are serious about addressing air quality in the country, we firstly need to identify all the sources. Secondly, we have to address the obvious air-quality inequalities," she says.
Her study was supervised by Prof Stuart Piketh and Prof Roelof Burger. The results were presented to the National Association for Clean Air in 2021 and will be presented at a conference in Manchester, United Kingdom, later this year.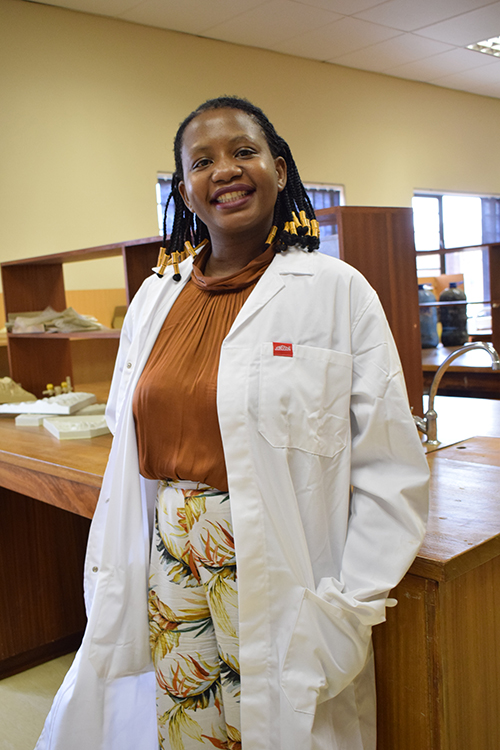 Ncobile Nkosi