"Universities have become 'sons of decolonisation struggles'." This is how Prof Sabelo Ndlovu-Gatsheni argued during a recent public lecture hosted on the North-West University's (NWU's) campus in Vanderbijlpark.
This lecture formed part of a series of conversations about the decolonisation of the curriculum.
Prof Ndlovu-Gatsheni questioned whether or not decolonisation is the right vehicle to take South Africa forward amid racism, sexism and xenophobia being rife in our daily existence.
"Academic freedom concerns the deepening of the right to academic activity, rather than the replacement of academic rights," he said. "The knowledge that served universities for the past century is viewed as depleted."
Prof Ndlovu-Gatsheni suggested that the methodology of content creation requires a new approach towards decolonisation, and that it can be better served under the concept of Africanisation as a school of thought and vision. 
"Decolonisation, or rather Africanisation, means – among other things – to consciously deal with local and continental matters first before extending knowledge or content transnationally and globally," he said.
Amidst this challenge Prof Ndlovu-Gatsheni suggestion remains that curriculum and operational reflection as patterns of transformation at South African universities will require a horizontal internationalisation.   
Prof Ndlovu-Gatsheni's core ideas argue for transforming universities into "places that nurture knowledge pools and create ideas emanating from this knowledge".
"Modern day ideas of Africanisation developed spontaneously in South Africa as a result of the country and its citizens being regarded as politically free and moving away from ideologically shackled thought. The right to be educated in an inclusive, diverse and balanced way in which a continental-specific view doesn't dominate, forms part of the journey towards educational freedom."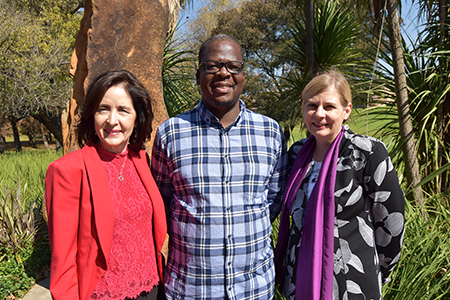 From left are Prof Elize van Eeden from the Faculty Humanities), Prof Sabelo Ndlovu-Gatsheni and Prof Linda du Plessis, deputy vice-chancellor for planning and operations in Vanderbijlpark.