The North-West University's (NWU's) McTronX research group has been at the forefront of dynamic modelling and the control of large scale industrial systems since 2003.

Led by Prof George van Schoor, the group is multi-disciplinary and comprises four full-time staff members. These staff members include Prof Kenny Uren, who specialises in systems modelling and control, Dr Henri Marais, who specialises in embedded systems and process monitoring, and Prof André Grobler, who specialises in thermal modelling of electrical machines and electrical machine design.

The group also works closely with other academics, including postgraduate students from almost all the engineering disciplines and industry partners such as Hochschule Zittau/Görlitz (University of Applied Sciences, Germany), Sasol, Denel, M-Tech Industrial, the CSIR, Eaton, Omnia, SAAB and Grintek.

The research group initially aimed to address the needs of the pebble bed modular reactor (PBMR) project underway in South Africa between 2003 and 2009. These needs involved dynamic modelling and control on the main thermohydraulic cycle, as well as active magnetic bearings (AMBs), seen as an enabling technology.

The main activity of the research group now is the dynamic modelling and control of large-scale industrial systems or processes. The name McTronX, according to Prof Van Schoor, is an acronym for the field of mechatronics.

"It was chosen due to the strong developments in the field of AMBs, a product of mechatronics, in the initial years since the establishment of the research group. This drive resulted in a number of laboratory demonstrator systems," he says.

The group's work has not gone unnoticed. In 2013 they received a research grant from Sasol for a project called Advanced Process Monitoring and Control in Petrochemical Environments. In 2016 the focus of the project shifted towards energy visualisation of large-scale industrial processes that are characterised by a number of subsystems exchanging matter and energy to accomplish a common goal.

Prof Van Schoor says the group's current research studies focus on process monitoring of industrial systems and a lab-scale two-tank heated system that was developed in-house during 2020. He says the system is well instrumented and will be used to validate energy-based process-monitoring algorithms.

Another study the group recently completed involved the modelling and development of a 3D printed peristaltic pump. The idea was to look at alternative actuators for robotic applications. The study indicated that electrostatic actuators such as peristaltic pumps are ideal for robotic actuation.
Prof Van Schoor says since rapid physical conceptualising is becoming more important in industry, the idea was then to manufacture this pump using an additive manufacturing approach. He says that a unique electrical circuit-equivalent model was developed to assist in the design of future pumps.

"These examples clearly indicate that modelling and control contribute to the improvement of industrial processes. The improvement can be quantified in terms of specific objectives, of which energy efficiency, product quality or plant reliability are the most prominent," says Prof Van Schoor.

He adds that the group has had a standing research relationship with the University of Applied Science Zittau/Görlitz since 2004. Numerous student exchanges to and from both universities have been facilitated, resulting in excellent research work produced.
The NWU's McTronX Research Group consists of Prof George van Schoor, Prof André Grobler, Dr Henri Marais and Prof Kenny Uren.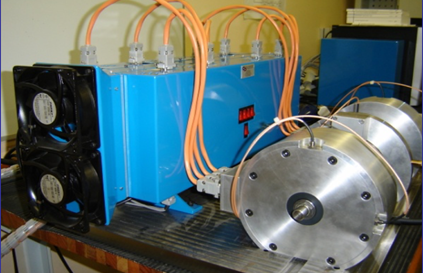 Active magnetic bearings.