The North-West University (NWU) is pulling out all stops in its quest to finally secure governmental approval for a medical school.
One such display of the capabilities of its Faculty of Health Sciences was evident this past weekend when more than 3 000 staff and community members were vaccinated in the fight against the Covid-19 pandemic.
Prof Awie Kotzé, executive dean of the faculty, says the NWU was able to plan and open two mass vaccination sites in less than a week, one each on the Potchefstroom and Mahikeng campuses. Each site is able to administer more than 1 000 vaccine doses a day.
"This also shows the capacity of the faculty in terms of training sufficient numbers of vaccinators and Electronic Vaccination Data System administrators within a few days," says Prof Kotzé.
"We have already trained more than 100 vaccinators between the two campuses, and they will work on a rotational basis to accommodate the NWU's academic programme as well."
Meanwhile, in addition to the pending approval for a medical school, the NWU is also currently waiting for final regulatory approval for two new programmes; the Higher Certificate in Health Promotion and a proposed four-year Public Health degree course.
Earlier this year, a joint-task team comprising the North-West provincial government and NWU officials was established to address urgent matters to pave the way for the establishment of the medical school.
"This is a matter that we will continue to pursue because we strongly believe that the new NWU Medical School will address the needs of prospective students and the public in terms of enrolment opportunities and public health in our country," remarked the NWU Council chairperson, Dr Bismark Tyobeka, after a Council meeting on 18 March 2021.
"We remain optimistic about the opportunities for collaboration and support from key stakeholders at a national and provincial level," Dr Tyobeka said, indicating the Council's support for the task team's plans to lobby for the urgent establishment of the NWU Medical School.
The NWU also strongly believes that the impact of the Covid-19 pandemic and the enormous stress and burden placed on South Africa's medical professionals have dramatically strengthened its case for a medical school in North West.
The NWU will conduct more vaccinations during the next two weekends and will most
likely continue to do this for the coming month or two.
Prof Dan Kgwadi, vice-chancellor, says the NWU family's hard work during the vaccination drive is an example of the university's ethic of care and commitment to community involvement.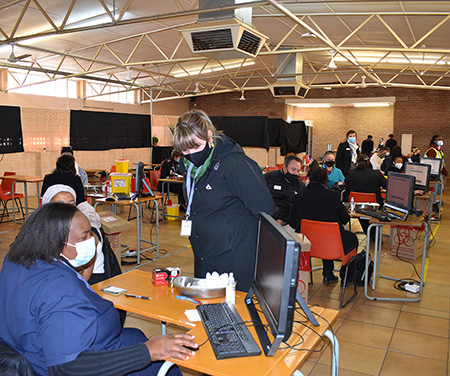 Thousands of residents pitched at the NWU's vaccination sites this past weekend, with more planned in the coming weeks.