A Fulbright scholar from the United States is joining the North-West University's (NWU's) Unit for Environmental Sciences and Management for 10 months to do research in a field where many stones are still unturned.
There are gaps in knowledge that scientists have about plant and insect species living on serpentinite rocks and filling in some of these could prove useful in understanding the effects of climate change and consequently contribute to conservation.
Prof Nishanta (Nishi) Rajakaruna from the California Polytechnic State University (Cal Poly) in San Luis Obispo will be working with Prof Stefan Siebert of the Geoecology Laboratory on the Potchefstroom Campus.
"Prof Rajakaruna's studies investigate how chemically 'harsh' geological environments such as the heavy metal-rich and nutrient-poor serpentine rocks shape the diversity, ecology and evolution of plants, lichens and microbes, as well as what the effects of climate change are on biota restricted to harsh environments, including conservation and restoration implications," says Prof Siebert.
The study of plants and other biota associated with serpentinite and other chemically "harsh" substrates has contributed greatly to ecological and evolutionary theories globally, as well as to conservation and restoration practices.
Prof Rajakaruna, an international leader in the field of serpentine ecology, has co-authored and published 96 peer-reviewed publications and two leading books in the field.
Active leader in the field
He has attended seven of the nine International Serpentine Ecology Conferences held to date, served on the scientific advisory committees of six conferences and organised a 2008 conference in Maine in the United States of America.
Prof Rajakaruna has active collaborations in geoecology in Iran, Russia, Sri Lanka and India, in addition to South Africa, where he holds an extraordinary professorship at the Unit of Environmental Sciences and Management. This is an honorary appointment granted to leading international scholars who have advanced science in a specific research field in Africa.
He has co-authored 96 peer-reviewed journal publications and book chapters to date, involving numerous undergraduate and postgraduate students and other researchers from 21 countries. He has already co-authored various publications with Prof Siebert, including a recent paper in the South Africa Journal of Botany that describes a new genus and two new species of lichen in South Africa, and a global assessment of tropical ultramafic ecosystems in the Botanical Review.
Prof Rajakaruna has received two prestigious Fulbright US Scholar Awards in the last six years to promote basic and applied research in serpentine geoecology. The first was a research award to Sri Lanka and India and this latest is a teaching and research award to South Africa, where he plans to work with Prof Siebert and his students on several serpentine geoecology projects and co-teach a postgraduate course in geoecology.
Bringing his knowledge to South Africa
He explains that major serpentinite outcrops occur along the greenstone belt of the Barberton mountains in Mpumalanga and from Potgietersrus to Duiwelskloof in Limpopo. Smaller outcrops also occur in the Witwatersrand and at the Vredefort Dome.
"Vascular plant floristics and the study of plants and insects with unusual metal-accumulating capabilities have been the primary focus of research to date. Research on other groups is limited in South Africa. I plan to initiate several field- and greenhouse-based research projects with Prof Siebert and his students to address information gaps in the discipline," said Prof Rajakaruna.
He says these projects will focus on characterising vascular plant and bryophyte diversity along edaphic-climatic gradients across South Africa and discovering new nickel-hyperaccumulating plants via X-ray fluorescence (XRF) analyses of herbarium specimens. The team will also investigate the adaptive significance of nickel hyperaccumulation, specifically testing the drought tolerance hypothesis for metal hyperaccumulation.
In addition to teaching a geoecology module with Prof Siebert, he will be a guest lecturer in several botany-focused undergraduate courses, including environmental botany and plant ecology, and participate in the outreach efforts of colleagues in rural Limpopo, the Lekwana Nature Reserve and the NWU Botanical Garden.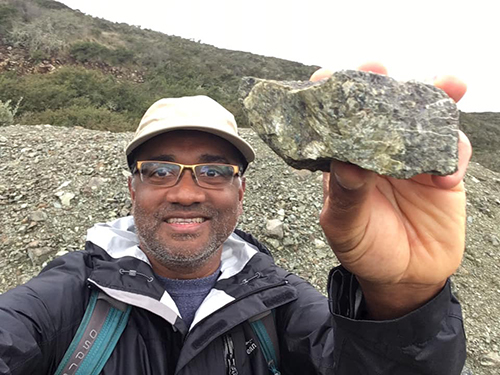 Prof Nishanta (Nishi) Rajakaruna says he is excited about his upcoming year in South Africa, where he hopes to foster long-lasting personal and professional relationships with the people.