Director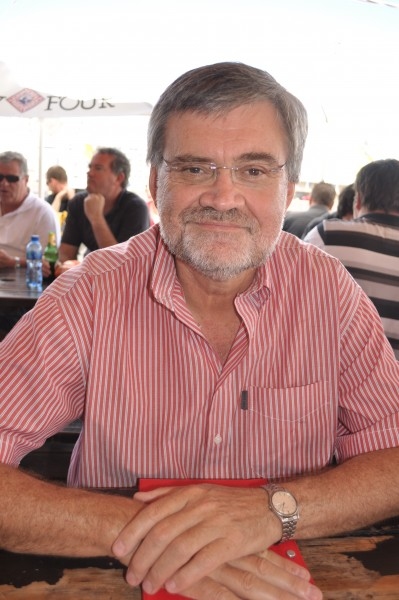 Prof Wannie Carstens has been Director of the School of Languages at the North-West University's Potchefstroom Campus since 2001. He is currently also the chairperson of the Afrikaanse Taalraad, chairperson of the Suid Afrikaanse Akademie van Kuns en Kultuur, chairperson of the Nasionale Taalligaam vir Afrikaans and also serves on a variety of boards. He is, amongst others, also a member of the panel of translators for the new Afrikaans Bible translation.
He was one of the founder collaborators of the collection of Afrikaans poetry that is housed in the Poëzie centrum in Gent, Belgium, and is also leader of a project that established a digital library on Afrikaans language sources (DBAT). He is a graded researcher of the National Research Foundation (NNS/NRF) in South Africa and also participates regularly in radio and television programmes on language matters.
Carstens regularly acts as selector of articles in subject magazines and he himself also published in a variety of fields. He already published two independent books (Norme vir Afrikaans, 1989, 1991, 1994, 2002, 2011) as well as Afrikaanse tekslinguistiek, 1997) and is also co-author of a book titled Teksredaksie (with Prof Kris van de Poel of the University of Antwerp; 2010, 2012). An English version of this book has just been published as: Text editing. A handbook for students and practitioners (Antwerp, University Press Antwerp – Kris van de Poel, WAM Carstens & John Linnegar).
He is also co-author of the ninth edition of the Afrikaanse Woordelys en Spelreëls (2002), the leading and directive publication on spelling in Afrikaans. As member of the Taalkommissie (Language Commission) he is also the co-recipient of the CJ Langenhoven Prize for Language Science from the SA Academy of Science and Art, and he also received an ATKV Woordwyser award for his book Norme vir Afrikaans (4th edition 2003). The fifth revised edition of this book was published in May 2011 and is widely prescribed to universities in SA.
Carstens has already published 33 academic articles as well as numerous popular articles. He also acts as moderator for other universities (UNISA, UFS and UP) as well as external examiner of other universities' dissertations and theses.
Carstens is currently in the process of writing a book on the history of Afrikaans and hopes to publish it by the end of 2013.
From 2007 Carstens has been travelling regularly to Belgium where he acts as guest professor at the University of Antwerp.
He was the study leader/promoter of several Master's and PhD students.
Physical Address
Prof Wannie Carstens
Director: School for Languages
Faculty of Arts
North-West University
Potchefstroom Campus
Telephone Number
018 299 1552
E-mail
wannie.carstens@nwu.ac.za