Professor
Extraordinary Professor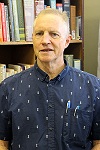 Dr Andrew K L Robinson, Public Health Physician
Areas of Expertise Health systems & programs innovation, implementation monitoring and evaluation; communicable and non-communicable diseases; Health Information Systems, clinical research; and human resources for health.
CURRENTLY: Extraordinary professor (2018), African Unit for Transdisciplinary Health Research (AUTHeR), developing the NWU School for Health Professionals, and graduate courses in Health Promotion, and Public Health for non-health professionals.
RECENTLY:
North West Provincial Health Department:
HEAD: Clinical Services (2013-2017) - responsible clinical leadership and governance of Interns, Community Service and Foreign health. Projects included the Belgian-South African Study and Consultancy Fund to study evaluate the province's Routine Health Information Systems with the NWU.
DEPUTY DIRECTOR GENERAL (2006-2013) - Overall management, leadership and strategic direction of provincial health services of over 20 hospitals and 350 clinics, Emergency Medical Services and strategic health programs such as MCWH&N, HIV/AIDS, TB and Chronic Diseases.
Developed:
Social franchise models for PHC clinics, now adopted by the National Department's Ideal Clinic Program,
Equitable funding formulae for District Health Care Services
Facilitation of the establishment of the first mHealth system for Community Health Worker Ward-based Outreach Teams - which has been the benchmark for the National Department.
RESEARCH SITE DIRECTOR: MRC's South African Aids Vaccine Initiative (2002-2005), establishing a Phase I and II clinical HIV vaccine research unit with successful completion of the first preventive HIV Vaccine clinical trials in South Africa
MEDICAL ADVISOR: GlaxoSmithKline, South Africa (1999-2001): National principal investigator of clinical drug and vaccine trials (including antiretroviral, antibiotic, malaria, influenza, hepatitis)
Deputy Chief Medical Officer of Health (1994-1999): Durban Metropolitan Council, initially as Communicable Disease Manager
Medical Officer posts – in rural KZN, London and Leeds UK and GP in Pietermaritzburg
PAST Roles and responsibilities include:
Physical Address
Building G16, 2nd floor,office 259
Telephone Number
018 299 2691
E-mail
andrew.robinson@nwu.ac.za